Source: Syfy
schedulebot
[
NOTE: Syfy schedule subject to change(s)
]

SUPERSTORM MOVIE MARATHON - SYFY: SCHEDULE THURSDAY, JULY 18, 2013
09:00 AM
Ba'al: The Storm God
An arrogant archaeologist unleashes a dangerous storm god with the aid of an artifact.
Cast includes Jeremy London, Stefanie von Pfetten, Scott Hylands, David Lewis,
Fringe's
Michael Kopsa, Elias Toufexis and
Continuum's
Lexa Doig.
11:00 AM
Mongolian Death Worm
Man-eating worms and local bandits become problematic for a group of treasure hunters in search of
Genghis Khan's
tomb in central Mongolia.
Cast includes Sean Patrick Flanery, Drew Waters, George Cheung, Victoria Pratt, Cheryl Chin and Jon Mack.
01:00 PM
Riddles Of The Sphinx
After accidentally unleashing a deadly Sphinx from ancient tunnels, a team of explorers must solve seven complex riddles in order to save humankind from destruction.
Cast includes Dina Meyer, Lochlyn Munro, Mackenzie Gray,
Battlestar Galactica's
Donnelly Rhodes, Emily Tennant, Dario Delacio, Donovan Cerminara and John J. Gulayets.
03:00 PM
Sand Sharks
Prehistoric sand tiger sharks attack a wild beach party following an underwater earthquake.
Cast includes
Stargate SG-1's
Corin Nemec, Brooke Hogan, Vanessa Lee Evigan, Eric Scott Woods, Gina Holden, Edgar Allan Poe IV, Robert Pike Daniel, Hilary Cruz, Delpaneaux Wills, Julie Marie Berman, Jack Kennedy and Andrea Pineda.
05:00 PM
Sands Of Oblivion
Morena Baccarin
and
Adam Baldwin
star in the tale of an archaeological dig that uncovers set pieces from "
The Ten Commandments
," and unleashes the anger of an Egyptian god.
Cast includes
Homeland's
Morena Baccarin, Adam Baldwin,
Continuum's
Victor Webster, George Kennedy, Azie Tesfai, Richard Kind, John Aniston, Kristina Sisco, Eric Artell, April Bowlby, Dan Castellaneta, Charles Lister, Jeff Manzanares, Raymond O'Connor, Alejandro Patino, Jack Samson and Chelse Swain.
07:00 PM
Sharknado
When a freak hurricane swamps Los Angeles, thousands of sharks terrorize the waterlogged populace, and nature's deadliest killer rules sea, land, and air.
Cast includes Tara Reid, Cassie Scerbo, Ian Ziering, John Heard, Chuck Hittinger, Aubrey Peeples, Jaason Simmons, Adrian Bustamante, Alex Arleo, Diane Chambers, David Bittick, Christopher Wolfe, Connor Weil, Marcus Choi, Sumiko Braun and Neil H. Berkow.
09:00 PM
Blast Vegas
- SYFY PREMIERE!
Blast Vegas, a Syfy Original Movie, airs Thursday July 18th at 9/8c.
Frankie Muniz
("
Malcolm in the Middle
") and
Barry Bostwick
("
Rocky Horror Picture Show
") star in the Original Movie "
Blast Vegas
." A group of wild frat bros and their nerdy tag-along Nelson (
Muniz
) head to Las Vegas for the spring break of a lifetime. When one of them steals an Egyptian relic from a casino, an ancient curse is unleashed on the fabled strip.
Cast includes Frankie Muniz, Barry Bostwick, Michael Steger, Maggie Castle, Summer Bishil, Andrew Lawrence, Jillian Nelson, Brooke Anne Smith and Adam Walker.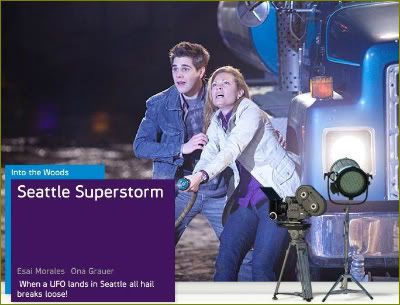 11:00 PM
Seattle Superstorm
A scientist and a soldier must save the world from deadly storms triggered by a
UFO
that crashed in Seattle's Puget Sound.
Cast includes
Caprica's
Esai Morales,
Stargate Universe's
Ona Grauer, Jared Abrahamson, MacKenzie Porter, Martin Cummins, Michelle Harrison, Matty Finochio, Dominika Juillet and Jesse Moss.
01:00 AM
Blast Vegas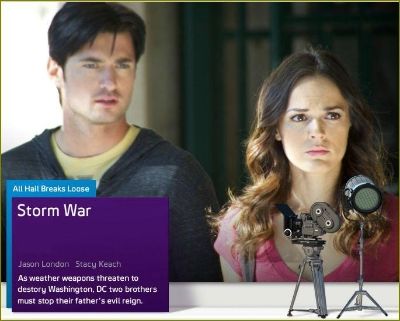 03:00 AM
Storm War
A deranged scientist uses weather weapons against his enemies and the city of Washington, D.C., spurring his two estranged sons to unite against him.
Cast includes Jason London, Stacy Keach, Anna Adair, Wes Brown, Erin Cahill, Jesse De Luna, Miles Doleac, Griff Furst, Gary Grubbs, Indigo, Nick Jones Jr., Lance E. Nichols, Billy Slaughter, Roger J. Timber and John Wilmot.