Source:
Syfy
You Tube channel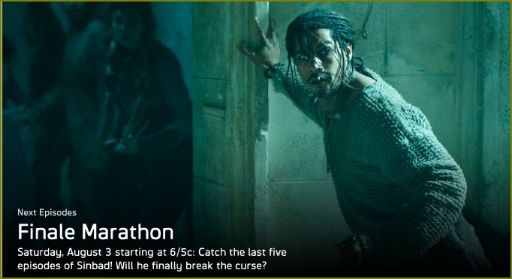 SINBAD - SYFY VIDEO FEATURETTE: MARATHON FINALE PREVIEW - AIRS SATURDAY, AUGUST 3, 2013 BEGINNING AT 11AM - FIVE NEW EPISODES BEGINNING AT 6/C!
Jul 31, 2013
Catch the last five episodes of Sinbad Saturday, August 3! Will he finally break the curse?
Sinbad cast includes Elliot Knight, Marama Corlett, Elliot Cowan, Junix Inocian, Dimitri Leonidas, Fringe's Orla Brady, Estella Daniels and Lost's Naveen Andrews.
CLICK HERE TO VIEW THE SINBAD MARATHON SCHEDULE