Source:
Collider
[follow link for complete interview]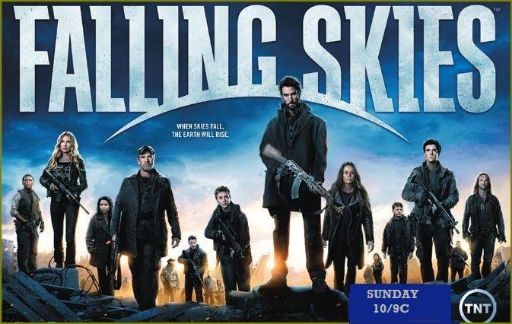 COLLIDER: Doug Jones Talks FALLING SKIES Season 3, the Makeup Process, His Career, His Desire to Make HELLBOY 3, and More
by
Christina Radish
June 26, 2013
Falling Skies
has returned for its third season, as the epic battle between humans and aliens continues. Seven months have passed since viewers last saw the survivors of the 2nd Mass, led by Tom Mason (
Noah Wyle
), and now that they've teamed up with
Volm
and a band of rebel Skitters, the human race looks like it just might have some hope. Executive produced by
Steven Spielberg
, the show also stars
Moon Bloodgood
,
Will Patton
,
Drew Roy
,
Connor Jessup
,
Maxim Knight
,
Sarah Carter
,
Colin Cunningham
and
Seychelle Gabriel
, along with
Doug Jones
,
Gloria Reuben
and
Robert Sean Leonard
.
While at the show's press day, actor
Doug Jones
spoke to Collider at both a roundtable and a 1-on-1 interview about how he came to be playing
Volm
leader Cochise, his desire to make every otherworldly creature he portrays different from the last, the two-hour make-up process, the most surprising thing about bringing Cochise to life, and whether the humans should be suspicious of the
Volm's
motives. He also talked about how he started out as a mime, that he originally thought he would be a sitcom star, the 27 commercials he did as the crescent moon-headed Mac Tonight character for McDonald's, the creature he's most proud of, and his hope that there will be a
Hellboy 3
...
(
Doug Jones as Human
)
...
Question: How did you come to be playing Cochise?
DOUG JONES
: "
I got a Facebook message from Todd Masters. That's how it started for me. That was my first contact with this idea. Todd Masters is the creature effects/make-up artist that creates for this show, and he's a genius. So, he sent me a message saying, "Would you want to do a series? We've got this character coming up." I said, "Sure, let me know what it's about." That's kind of how my jobs have happened, over the years. It's been referrals throughout the creature effects/make-up world. The drawings happen and they see that it's a tall, skinny thing, and they go, "Let's get Doug Jones for that." That's how my career has happened, over the years, and this started no different. But, I've never done series television, in this capacity before, as a creature. I've done lots with my own face, as a person, but not a whole lot of creatures. I thought, "What am I taking on here, week after week and month after month? Is this going to be too much?" I didn't know. But as it turned out, I fell in love with Cochise, the character.

Reading the first episode of Season 3, I saw exactly what they were doing, immediately, and thought it could unfold into something beautiful. And sure enough, over Season 3, it did. The relationship that Cochise and Tom have is an informative business relationship. They're both leaders, in their own right, trying to make this situation better. My Volm character is trying to help the human character wipe out the bad aliens that are here, but we also learn a lot about each other, through the season. This human thing is something that the Volm have never encountered before. We usually have sub-species that we try to help out of being the poor little pathetic things that they are, and we expect to find that again, but we're surprised that these people have a heart and soul that we weren't expecting. They have what we keep referring to as the human spirit. That's fascinating to Cochise. So, we end up learning from each other, as the season unfolds. Playing creatures, for me, is something that I've done for 20-some years, but playing a creature with backstory and layers and a soul is what I'm interested in. That's why Cochise really sings to me...
"
(
Doug Jones as Volm
)
Falling Skies
airs Sunday at 10/9C on
TNT
.
CLICK HERE TO VIEW THE EPISODE TRAILER FOR 'SEARCH AND RECOVER,' AIRING JUNE 30, 2013.