Source:
SciFi and TV Talk
[follow link for complete interview]

SCIFI AND TV TALK: Taking Charge: Interview with Continuum's Lexa Doig
06/14/2013
by
Steve Eramo
As a doctor and research scientist living in 2077 Vancouver,
Continuum's
Sonya Valentine worked for the corporate military on a variety of projects designed to enhance humans' resistance to future disasters and diseases. One particular project involved the creation of super soldiers, but, unfortunately, her work eventually began to take a path to which she morally objected.
When the project was terminated, Sonya decided to fight back against the atrocities committed by the corporations running the world. She joined the terrorist movement Liber8, and ended up traveling back in time to 2012 Vancouver where she and a small group of fellow
Libert8
members hoped to change the future. Their mission continues in the show's second season, but with
Liber8's
founder, Edouard Kagame, no longer in the picture, Sonya has stepped into his leadership role. Those shoes have, however, not been that easy to fill, as actress
Lexa Doig
, who plays Sonya, can attest to.
"
I'm thrilled that there's more for me to do in season two, which I knew was how it was going to go down, and it's interesting to see where Sonya is going, but let's just say that she's not the most effective when it comes to being a leader
," says
Doig
with a laugh. "
I can parallel her journey to that of a young mother; someone who's suddenly in charge of something very, very important and doesn't really know how to do it right, and has to figure out how to do it. Along the way, she makes some epic mistakes as well as a couple of small successes.
"
Now I don't want to confuse anyone out there. No, Sonya does not become a mother. I'm just likening that to her becoming the head of Liber8. Again, it's been an interesting journey for me to play her as she discovers the things that work along with those that don't and the things she wants to do. It also sort of helps further solidify how Sonya feels about what she's attempting to accomplish. I honestly do feel that she is a true believer in certain ideals. She's not just a chaotic type of individual out for world domination, you know? Sonya actually does want to achieve a decent goal
..."
Continuum cast includes Erik Knudsen, Rachel Nichols, Victor Webster, Stephen Lobo, Stargate Universe's Jennifer Spence; Stargate SG-1's Lexa Doig; Richard Harmon, Omari Newton, Brian Markinson and Roger R. Cross.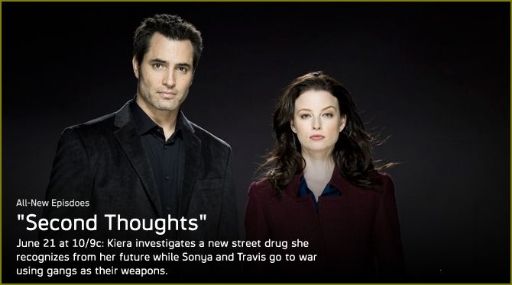 NEW
Continuum
episodes air Friday at 10/9 on
Syfy
.
CLICK HERE TO VIEW THE EPISODE TRAILER FOR 'SECOND THOUGHTS,' AIRING JUNE 21, 2013.