Source: Syfy
schedulebot
[
NOTE: Syfy schedule subject to change(s)
]

SPLENETIC MEGA CRITTERS MOVIE MARATHON - SYFY: SCHEDULE SUNDAY, JUNE 2, 2013
09:00 AM
Moby Dick
Author
Herman Melville's
classic tale gets a modern-day makeover as the captain of a submarine hunts the massive whale that once disfigured him in a terrifying confrontation at sea.
Cast includes Barry Bostwick, Renée O'Connor, Matt Lagan, Adam Grimes, Dean Kreyling, Jay Gillespie, Jay Beyers and Carl Watts.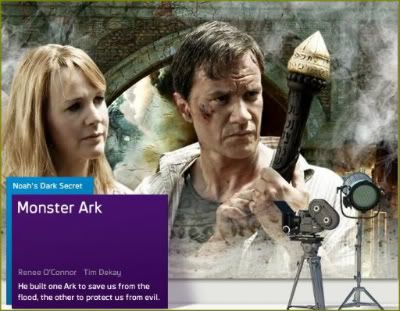 11:00 AM
Monster Ark
An ancient evil is unleashed by archaeologists in a remote region of the Middle East.
Cast includes Renée O'Connor,
White Collar's
Tim DeKay, Tommy 'Tiny' Lister, Amanda Crew, Carlos Leon, Bill Parks and Richard Gnolfo
01:00 PM
Manticore
Heather Donahue
("
The Blair Witch Project
"),
Robert Beltran
("
Star Trek: Voyager
"), and
Chase Masterson
("
Star Trek: Deep Space Nine
") star in this horror movie pitting U.S. soldiers in Iraq against a half-lion, half-dragon mythological beast.
Cast includes Robert Beltran, Jeff Fahey, Chase Masterson, Heather Donahue, Faran Tahir, A.J. Buckley, Jeff M. Lewis and Richard Gnolfo.
03:00 PM
Mega Snake
Because his father was killed by a poisonous snake bite, Les Daniels (
Michael Shanks
) has a deadly fear of snakes. Chaos ensues when Les' brother accidentally unleashes a rare, extremely deadly mythical snake. The snake escapes into Les' small town and begins to grow at a terrifying rate. Now Les must overcome his paralyzing fear to help protect his small town against the growing, deadly
Mega Snake
, which is devouring anything in its path.
Don't let the snake out of the jar, then don't let the snake eat anything living, and never fear the heart of the snake.
Starring
Stargate SG-1's
Michael Shanks, Siri Baruc, Michal Yannai, Ben Cardinal and John T. Woods.
05:00 PM
Mega Shark Vs. Crocosaurus
A gigantic, immensely powerful shark does battle with a fierce primordial crocodile from Africa.
Cast includes Gary Stretch, Jaleel White, Sarah Lieving,
Star Trek: Voyager
/
Stargate Atlantis'
Robert Picardo, Gerald Webb, Dylan Vox, Hannah Cowley and Steve Mason.
07:00 PM
Mega Python Vs. Gatoroid
Monstrous reptiles clash in the Florida Everglades when giant pythons threaten the alligator population.
Cast includes Deborah Gibson, Tiffany, A Martinez, Kathryn Joosten, Kevin M. Horton and Carey Van Dyke.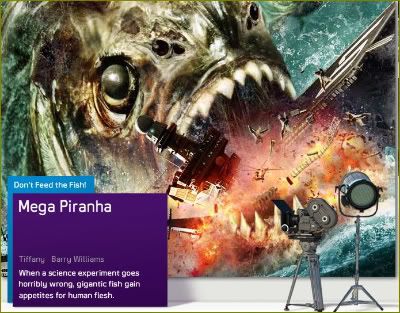 09:00 PM
Mega Piranha
Giant mutant piranha escape from the Amazon and head for Florida.
Cast includes Paul Logan, Tiffany, Barry Williams, David Labiosa, Jude Gerard Prest and Jesse Daly.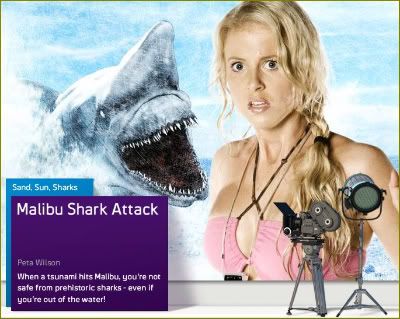 11:00 PM
Malibu Shark Attack
A tsunami brings goblin sharks to Malibu, CA, after a massive wave cuts lifeguards and construction workers off from dry land.
Cast includes Peta Wilson, Renee Bowen, Remi Broadway, Joel Amos Byrnes,
Alphas'
Warren Christie, Nicholas G. Cooper and Sonya Salomaa.
01:00 AM
Mongolian Death Worm
Man-eating worms and local bandits become problematic for a group of treasure hunters in search of Genghis Khan's tomb in central Mongolia.
Cast includes Sean Patrick Flanery, Drew Waters, George Cheung, Victoria Pratt, Cheryl Chin and Jon Mack.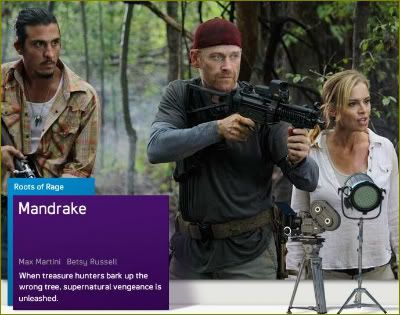 03:00 AM
Mandrake
An expedition to find a mystical dagger goes horribly awry when researchers accidentally awaken some deadly vegetation.
Cast includes Max Martini, Betsy Russell, Benito Martinez, Jon Mack, Nick Gomez, Wayne Pére and Freddie Joe Farnsworth.