Source: Syfy
schedulebot
[
NOTE: Syfy schedule subject to change(s)
]

SCIFI MOVIE MARATHON - SYFY: SCHEDULE SATURDAY, JUNE 1, 2013
09:30 AM
Catwoman
Campy comic-book action with
Halle Berry
as a cosmetics-company employee who is killed when she learns a dark corporate secret and is revived as a sexy feline superhero.
Cast includes Halle Berry, Benjamin Bratt, Sharon Stone, Lambert Wilson, Frances Conroy, Alex Borstein, Michael Massee, Byron Mann, Kim Smith,
Sanctuary's
Christopher Heyerdahl, Peter Wingfield, and Ryan Robbins;
Stargate SG1/Atlantis
alums Ona Grauer, Aaron Douglas, Peter Williams, Michasha Armstrong and Herbert Duncanson.
11:30 AM
Sin City
Robert Rodriguez
and
Frank Miller
directed this stunning, faithful and gory adaptation of a trio of
Miller's
graphic novels set in the underbelly of a noirish metropolis. A film that explores the dark and miserable town, Basin City, and tells the story of three different people, all caught up in violent corruption.
Cast includes Jessica Alba, Devon Aoki, Powers Boothe, Jude Ciccolella, Rosario Dawson, Jesse De Luna, Benicio Del Toro, Michael Clarke Duncan, Rick Gomez, Carla Gugino, Josh Hartnett, Rutger Hauer, Nicky Katt, Jaime King, Michael Madsen, Brittany Murphy, Nick Offerman, Clive Owen, Mickey Rourke, Nick Stahl, Bruce Willis and Elijah Wood.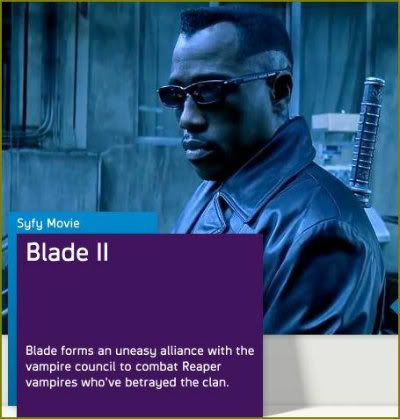 02:00 PM
Blade II
A vampire slayer (
Wesley Snipes
) teams up with the undead to take down a band of mutant bloodsuckers.
Cast includes Wesley Snipes, Kris Kristofferson, Ron Perlman, Leonor Varela,
The Walking Dead's
Norman Reedus, Luke Goss and
Defiance's
Tony Curran.
04:30 PM
Terminator 3: Rise Of The Machines
Arnold Schwarzenegger's
smashing third go-round as the futuristic robot, or "cybernetic organism," battles a female terminator (
Kristanna Loken
), who is sent to assassinate John Connor (
Nick Stahl
), who's destined to become the leader of a worldwide resistance movement. The film picks up 10 years after the last installment of the sci-fi series.
Cast includes Arnold Schwarzenegger, Nick Stahl, Claire Danes, Kristanna Loken, David Andrews, Mark Famiglietti, Earl Boen, Moira Harris, Christopher Lawford, Jay Acovone and M.C. Gainey.
07:00 PM
Underworld: Evolution
Gory sequel finds the bloodsucking heroine (
Kate Beckinsale
) tracing the origins of the ancient feud between the tribes of vampires and werewolves.
Cast includes Kate Beckinsale,
Defiance's
Tony Curran, Derek Jacobi, Bill Nighy, Michael Sheen and Sophia Myles.
09:00 PM
The Ruins
- NEW to Syfy!
Four American tourists vacationing in Cancun visit an archaeological dig with some foreign friends in the Mayan jungle, but when local villagers attack them, they become trapped in a temple covered in vines that seem to be alive.
Cast includes Jonathan Tucker, Jena Malone, Laura Ramsey,
The Following's
Shawn Ashmore, Joe Anderson and Dimitri Baveas.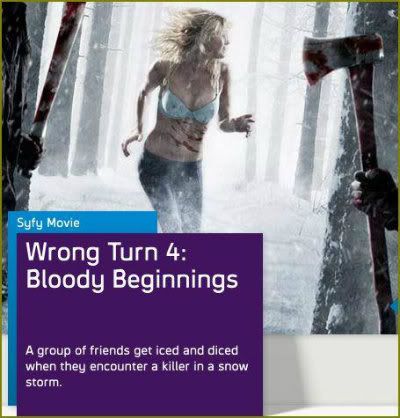 11:00 PM
Wrong Turn 4: Bloody Beginnings
Tenika Davis
stars in this horror prequel about a group of college students who stumble upon an abandoned sanatorium and are hunted by the facility's former patients.
Cast includes Sean Skene, Blane Cypurda, Dan Skene, Tristan Carlucci, Scott Johnson, Bryan Verot, Jennifer Pudavick, Tenika Davis, Kaitlyn Wong, Terra Vnesa, Victor Zinck Jr., Dean Armstrong, Ali Tataryn, Samantha Kendrick, Arne MacPherson and Kristen Harris.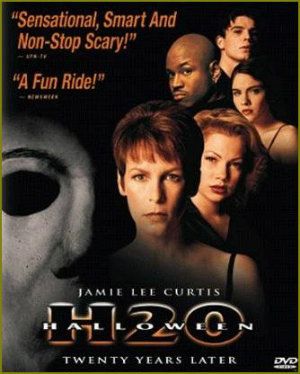 01:00 AM
Halloween H2o
Laurie Strode (
Jamie Lee Curtis
), now the dean of a Northern California private school with an assumed name, must battle the Shape one last time and now the life of her own son hangs in the balance.
Cast includes Jamie Lee Curtis, Adam Arkin, Michelle Williams, Adam Hann-Byrd, Jodi Lyn O'Keefe, Janet Leigh, Josh Hartnett,
NCIS: Los Angeles'
LL Cool J, Joseph Gordon-Levitt, Beau Billingslea, John Cassini, Jody Wood and Chris Durand.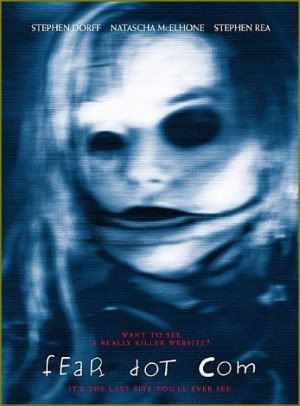 03:00 AM
Feardotcom
A cop (
Stephen Dorff
) and a health inspector (
Natascha McElhone
) investigate a Web site that causes the death of those who visit it.
Cast includes Stephen Dorff, Natascha McElhone, Stephen Rea, Udo Kier, Amelia Curtis, Jeffrey Combs and Nigel Terry.