Source:
Syfy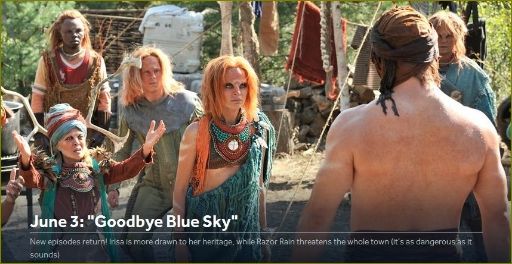 DEFIANCE - SYFY VIDEO FEATURETTE: 'TOMMY & IRISA'S RELATIONSHIP - EXCLUSIVE CAST INTERVIEW
Dewshane Williams
(Tommy) &
Stephanie Leonidas
(Irisa) talk about what is brewing between Tommy & Irisa.
Defiance airs Monday at 9/8C on Syfy.
CLICK HERE TO VIEW THE EPISODE TRAILER FOR 'GOODBYE BLUE SKY,' AIRING JUNE 3, 2013.
[
NOTE: No NEW Defiance episode on May 27, 2013 due to the Memorial Day holiday programming.
]
Defiance cast includes Tony Curran, Jaime Murray, Julie Benz, Mia Kirshner, Grant Bowler, Stephanie Leonidas, Graham Greene, Dewshane Williams, Jesse Rath, Justin Rain and Nicole Muñoz.