Source:
TV Worth Watching
[follow link for complete column]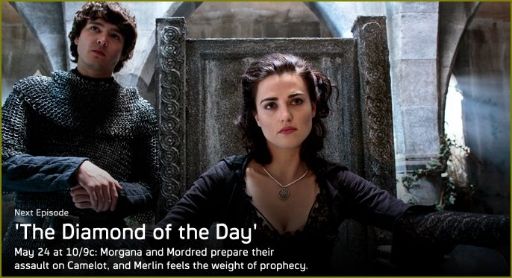 TV WORTH WATCHING: BEST BETS FRIDAY, MAY 24, 2013
...
MERLIN
Syfy, 10:00 p.m. ET
Next week is this show's series finale, and tonight's episode sets up the final conflict: a battle for supremacy with, on the one side, Merlin and Arthur and the knights of Camelot, and, on the other, evil sorceress Morgana. Keep an eye on her: She's played by
Katie McGrath
, who, come fall, will slide into another fantasy genre series, starring as Lucy Westenra in
NBC's
new
Dracula
.
CLICK HERE TO VIEW THE EPISODE TRAILER FOR 'THE DIAMOND OF THE DAY - PART ONE' - THE MERLIN SERIES FINALE EPISODES!