Source:
MSN TV
[follow link for complete column]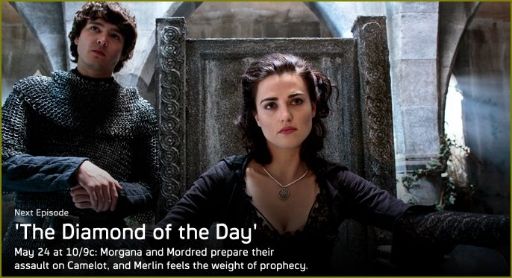 MSN TV: TONIGHT'S PICKS FRIDAY, MAY 24, 2013
...
Merlin
10:00 PM, SYFY
Morgana and Mordred (
Katie McGrath
,
Alexander Vlahos
) prepare to attack Camelot after sending a giant slug to rob Merlin (
Colin Morgan
) of his magic. As Arthur (
Bradley James
) leads his forces out to meet the invaders, Merlin goes to the Crystal Cave, where an apparition of his father helps him regain his powers in the opener of a two-part tale, "
Diamond of the Day
."
CLICK HERE TO VIEW THE EPISODE TRAILER FOR 'THE DIAMOND OF THE DAY - PART ONE' - THE MERLIN SERIES FINALE EPISODES!