Source:
Syfy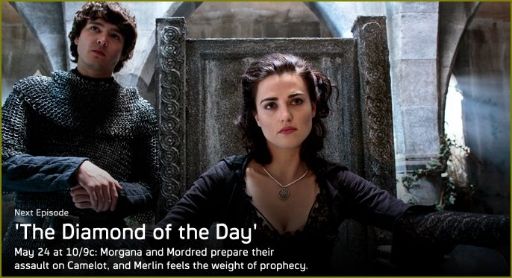 MERLIN - SYFY VIDEO: 'THE DIAMOND OF THE DAY - PART ONE' EPISODE TRAILER - AIRS FRIDAY, MAY 24, 2013 AT 10/9C - SERIES FINALE!
Morgana and Mordred prepare to destroy Camelot (and Morgana plots to destroy Emrys). Is Merlin Camelot's last hope?
High in the mountains a great horde gathers; Morgana (
Katie McGrath
) prepares for war, a vengeful Mordred (
Alexander Vlahos
) at her side. Merlin (
Colin Morgan
) feels the weight of his destiny like never before as the ancient prophecies play out with terrifying accuracy. Yet before he can save his beloved Camelot, he must save himself. For Morgana wishes to destroy not just the kingdom but also Emrys.
Guest stars include Peter Guinness, Alexander Vlahos, Tom Hopper, Eoin Macken, Erin Richards, Rupert Young and John Lynch.