Source: Syfy
schedulebot
[
NOTE: Syfy schedule subject to change(s)
]

ADVENTURE MOVIE MARATHON - SYFY: SCHEDULE SATURDAY, MAY 18, 2013
11:00 PM
Riverworld - Part One
Tahmoh Penikett
and
Alan Cummings
star in this adaptation of
Philip Jose Farmer's
novel about a group of people who die and awaken in a strange land covered almost entirely in rivers.
Matt (
Tahmoh Penikett
), an American journalist, and his fiancee, Jessie (
Laura Vandervoort
), are killed in an explosion, but reawaken in this unusual afterlife. Everyone who has ever lived on Earth has been resurrected simultaneously in this strange new world. Determined to find Jessie, Matt joins forces with an intrepid crew, including a 13th century female warrior and riverboat captain Mark Twain (
Mark Deklin
). As they embark upriver, their adventure begins, all the while tracked by the watchful eye of a mysterious alien force.
Cast includes
Battlestar Galactica's
Tahmoh Penikett, Mark Deklin,
Sanctuary's
Peter Wingfield, Jeananne Goossen, Alan Cumming, Laura Vandervoort, Chiara Zanni,
Battlestar Galactica's
Alessandro Juliani; and
Stargate
(SG1/SGA/SGU) alums Aleks Paunovic, Kwesi Ameyaw, Michael Adamthwaite, Alex Zahara, Terry Chen and Marilyn Norry.
01:00 AM
Riverworld - Part Two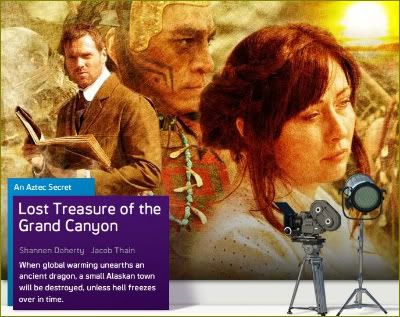 03:00 AM
Lost Treasure Of The Grand Canyon
A quest to save an elderly archaeologist pits his daughter and his students against an Aztec god.
Cast includes
Saving Hope's
Michael Shanks, Shannen Doherty, Toby Berner, Rob McConachie, Luis Javier, Peter New, and
Stargate
alums JR Bourne, Heather Doerksen, Duncan Fraser, Byron Chief-Moon, Alan C. Peterson, Peter Kent and Darcy Laurie.