Source: Syfy
schedulebot
[
NOTE: Syfy schedule subject to change(s)
]

SUPERNATURAL MOVIE MARATHON - SYFY: SCHEDULE FRIDAY, MARCH 1, 2013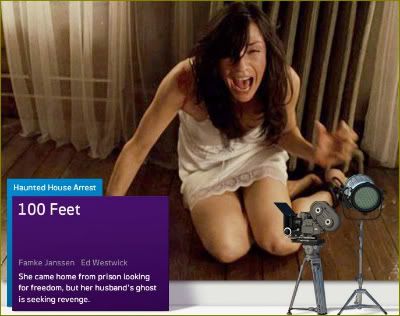 08:00 AM
100 Feet
Famke Janssen
stars in this haunted-house tale about a woman who is sentenced to house arrest after she killed her abusive spouse in self-defense. Written and directed by
Eric Red
.
Cast includes Famke Janssen, Bobby Cannavale, Ed Westwick, Michael Paré, Patricia Charbonneau and John Fallon.
10:00 AM
Seconds Apart
Twins Seth (
Gary Entin
) and Jonah (
Edmund Entin
) begin using their psychic powers to kill their classmates. Later, they focus their murderous rage on each other and become locked in a diabolical fight to the death.
Cast includes Orlando Jones, Edmund Entin, Gary Entin, Samantha Droke, Louis Herthum and Morgana Shaw.
12:00 PM
Stir Of Echoes: The Homecoming
Rob Lowe
and
Shawn Roberts
star in this sequel following an Iraq War veteran who is plagued by terrifying visions after returning home.
Cast includes Rob Lowe, Marnie McPhail, Ben Lewis, Tatiana Maslany, Shawn Roberts,
Chuck's
Vik Sahay, Colin Williams, PJ Lazic, Elias Zarou and Nicholas Carella.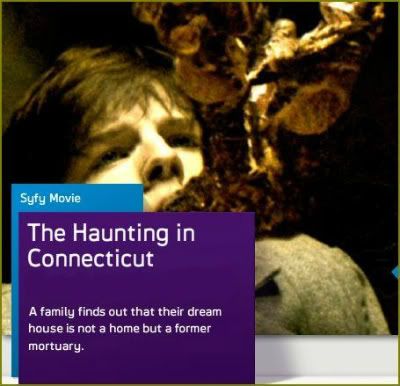 02:00 PM
The Haunting In Connecticut
When a family moves into a converted funeral home and falls under supernatural attack, desperate mother Sarah (
Virginia Madsen
) struggles to free her family from the grip of evil. Sarah and Peter Campbell have just moved to Connecticut with their young son Matt. When a malevolent otherworldly force begins to take control of the family, an enigmatic priest intervenes.
Cast includes Virginia Madsen, Kyle Gallner, Elias Koteas, Ty Wood, Martin Donovan, Sophi Knight, Amanda Crew, Erik J. Berg and John Bluethner.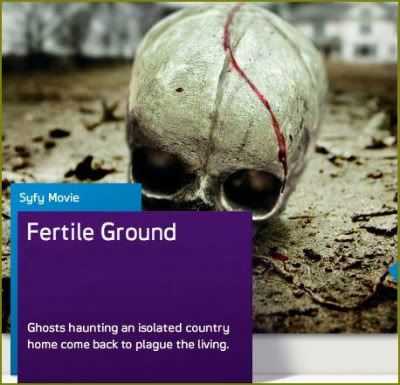 04:00 PM
Fertile Ground
Expectant couple Emily (
Leisha Hailey
) and Nate Weaver move to a secluded home in New Hampshire and are haunted by a malevolent entity that takes possession of Nate and threatens to destroy their family.
Cast includes Gale Harold, Leisha Hailey, Chelcie Ross and Jami Bassman.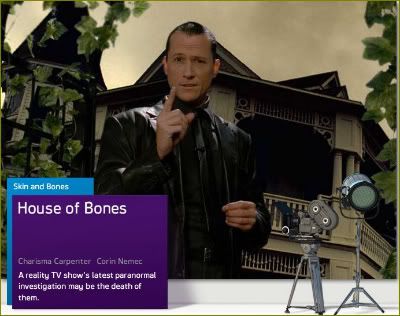 06:00 PM
House Of Bones
Paranormal investigators from a syndicated television series get more than they bargained for when they probe a notorious New Orleans house.
Cast includes
Angel's
Charisma Carpenter, Marcus Lyle Brown, Rick Robinson Jr., Collin Galyean, Kyle Russell Clements, Stephanie Honore and
Stargate SG-1's
Corin Nemec.
[Time out for SciFi Friday]
03:00 AM
House Of Bones