Source: Syfy
schedulebot
[
NOTE: Syfy schedule subject to change(s)
]

HORROR MOVIE MARATHON - SYFY: SCHEDULE THURSDAY, FEBRUARY 28, 2013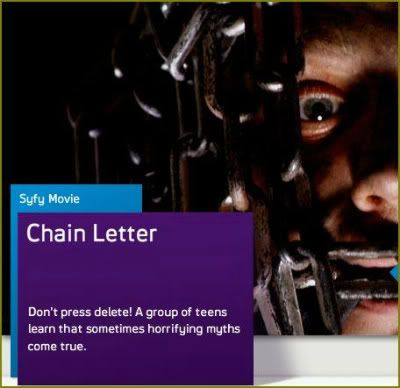 11:00 AM
Chain Letter
Jessie Campbell (
Nikki Reed
) and her friends receive a threatening e-mail claiming they will all die if they fail to keep the message circulating.
Cast includes Madison Bauer, Mark S. Allen, Phil Austin, Nikki Reed, Michael Bailey Smith, Michael J. Pagan, Matt Cohen, Brad Dourif and Keith David.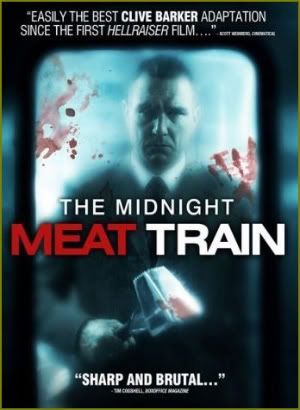 01:00 PM
The Midnight Meat Train
An ambitious photographer (
Bradley Cooper
) becomes obsessed with a hulking serial killer (
Vinnie Jones
) who preys on late-night subway riders. Based on a short story by
Clive Barker
.
Cast includes Bradley Cooper, Leslie Bibb, Brooke Shields, Vinnie Jones, Roger Bart,
Defiance's
Tony Curran and Ted Raimi.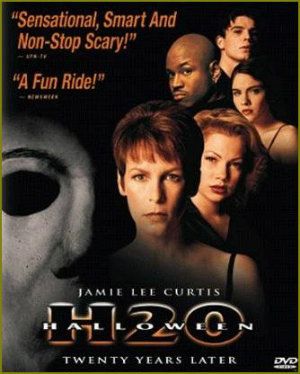 03:00 PM
Halloween H2o
Laurie Strode (
Jamie Lee Curtis
), now the dean of a Northern California private school with an assumed name, must battle the Shape one last time and now the life of her own son hangs in the balance.
Cast includes Jamie Lee Curtis, Adam Arkin, Michelle Williams, Adam Hann-Byrd, Jodi Lyn O'Keefe, Janet Leigh, Josh Hartnett,
NCIS: Los Angeles'
LL Cool J, Joseph Gordon-Levitt, Beau Billingslea, John Cassini, Jody Wood and Chris Durand.
06:00 PM
The Ninth Gate
A rare book dealer, while seeking out the last two copies of a demon text, gets drawn into a conspiracy with supernatural overtones.
Cast includes Johnny Depp, Frank Langella, Lena Olin, Emmanuelle Seigner, Barbara Jefford, Jack Taylor and James Russo.
09:00 PM
Stake Land
After vampires overtake America, orphaned teen Martin (
Connor Paolo
) and survivalist Mister (
Nick Damici
) find themselves locked in a battle against a dangerous religious cult lead by the diabolical Jebedia Loven (
Michael Cerveris
). Later, Martin and Mister are joined by a group of weary travelers trying to find a sanctuary known as New Eden.
Cast includes Nick Damici, Connor Paolo, Sean Nelson,
Fringe's
Michael Cerveris, Bonnie Dennison, Chance Kelly, Tim House, Larry Fessenden and Kelly McGillis.
11:00 PM
Edward Scissorhands
Tim Burton
directed this fanciful tale about a young man (
Johnny Depp
) with pruning-shear hands who is taken in by a kindly saleswoman (
Dianne Wiest
).
Cast includes Johnny Depp, Winona Ryder, Dianne Wiest, Anthony Michael Hall, Kathy Baker, Robert Oliveri, Conchata Ferrell, Caroline Aaron, Vincent Price, Alan Arkin, John Davidson, Biff Yeager and Alan Fudge.
01:30 AM
Halloween H2o