Source: Syfy
schedulebot
[
NOTE: Syfy schedule subject to change(s)
]

HORROR MOVIE MARATHON - SYFY: SCHEDULE SATURDAY FEBRUARY 16, 2013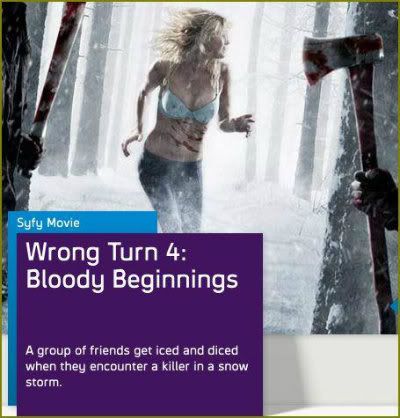 10:30 AM
Wrong Turn 4: Bloody Beginnings
Tenika Davis
stars in this horror prequel about a group of college students who stumble upon an abandoned sanatorium and are hunted by the facility's former patients.
Cast includes Sean Skene, Blane Cypurda, Dan Skene, Tristan Carlucci, Scott Johnson, Bryan Verot, Jennifer Pudavick, Tenika Davis, Kaitlyn Wong, Terra Vnesa, Victor Zinck Jr., Dean Armstrong, Ali Tataryn, Samantha Kendrick, Arne MacPherson and Kristen Harris.
12:30 PM
The Hills Have Eyes
Grisly reworking of the 1977 horror classic follows a clan of mutant psychos who terrorize vacationers in the New Mexico desert.
Cast includes Aaron Stanford, Kathleen Quinlan, Vinessa Shaw,
Once Upon A Time's
Emilie de Ravin, Dan Byrd, Billy Drago, Robert Joy and Ted Levine.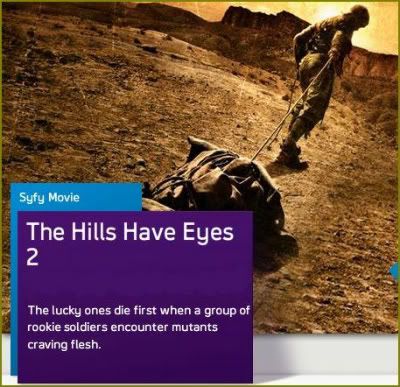 03:00 PM
The Hills Have Eyes 2
A group of National Guard trainees find themselves battling against a vicious group of mutants on their last day of training in the desert.
Cast includes Michael McMillian, Jessica Stroup, Jacob Vargas, Flex Alexander, Lee Thompson Young, Daniella Alonso, Eric Edelstein, Jeff Kober, Jay Acovone and
CSI's
Archie Kao.
05:00 PM
Saw IV
Jigsaw may be dead, but
Tobin Bell
is mysteriously back in this fourth installment in the popular Saw series in this sequel that explores the killer's origins.
Cast includes Tobin Bell, Costas Mandylor, Scott Patterson, Betsy Russell, Lyriq Bent,
Stargate Universe's
Louis Ferreira,
Blue Blood's
Donnie Wahlberg, Angus Macfadyen and Dina Meyer.
07:00 PM
Saw V
Fifth entry in the slasher series finds serial killer Jigsaw dead and his sadistic successor continuing with his diabolical, torturing ways.
Cast includes Tobin Bell, Costas Mandylor, Scott Patterson, Betsy Russell,
Defiance's
Julie Benz, Meagan Good, Mark Rolston and Carlo Rota.
09:00 PM
The Collector - Syfy Premiere!
Ex-con Arkin (
Josh Stewart
) decides to rob the country manor of a wealthy family while they're away on vacation, but discovers that the family has been taken hostage inside their home by a masked serial killer known as "
The Collector
(
Juan Fernández
)." Now Arkin is the family's only hope for survival as he does battle with the sadist and his lethal booby traps. Directed by Marcus Dunstan.
Cast includes William Prael, Diane Ayala Goldner, Juan Fernández, Josh Stewart, Michael Reilly Burke, Andrea Roth, Karley Scott Collins, Madeline Zima, Haley Pullos, Daniella Alonso, Robert Wisdom, Alex Feldman, Tom Gulager, Brett Forbes, Hiro Koda, David Landsness and Jennifer Monroe.
11:00 PM
The Hills Have Eyes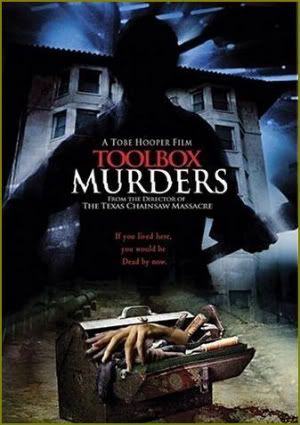 01:30 AM
Toolbox Murders
New to Los Angeles, Nell and Steven Barrow (
Angela Bettis
and
Brent Roam
) rent an apartment in the run-down Lusman Arms building in this gruesome slasher flick from
Tobe Hooper
. Soon, Nell begins to notice that young women in the building are meeting violent deaths. With the help of nice-guy actor "Jazz" Rooker (
Rance Howard
), Nell starts investigating -- and makes some disturbing discoveries.
Cast includes Angela Bettis, Brent Roam, Marco Rodríguez, Rance Howard,
Angel's
Juliet Landau, Adam Gierasch and Greg Travis.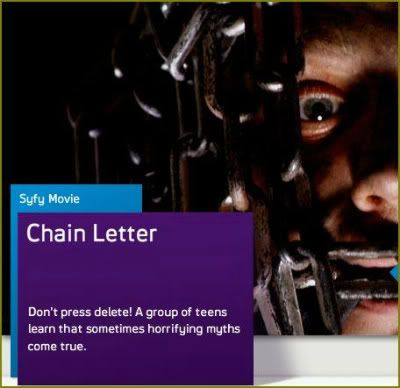 03:30 AM
Chain Letter
Jessie Campbell (
Nikki Reed
) and her friends receive a threatening e-mail claiming they will all die if they fail to keep the message circulating.
Cast includes Madison Bauer, Mark S. Allen, Phil Austin, Nikki Reed, Michael Bailey Smith, Michael J. Pagan, Matt Cohen, Brad Dourif and Keith David.