Source: Science Channel
schedulebot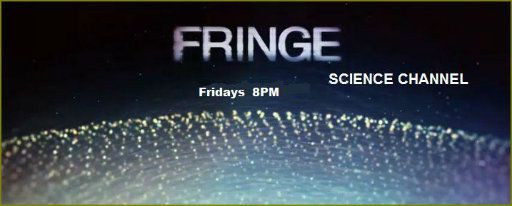 FRINGE - SCIENCE CHANNEL: MINITHON SCHEDULE FRIDAY, FEBRUARY 8, 2013
Fringe cast includes Anna Torv, Joshua Jackson, John Noble, Jasika Nicole, Lance Reddick, Seth Gabel and Blair Brown.
08:00 PM
Transilience Thought Unifier Model-11
(season 5)
In the Season 5 premiere, Peter (
Joshua Jackson
) and Etta (
Georgina Haig
) search for Olivia (
Anna Torv
) in 2036 as the
Fringe
team, released from amber after 20 years, joins the rebellion to halt the Observers' world dominance.
Guest stars include Georgina Haig, Michael Kopsa, Clark Middleton, Shaun Smyth, Abagayle Hardwick and Dejan Loyola.
09:00 PM
6995 kHz
(season 3)
The Division investigates a case of more than a dozen people all over the East Coast suffering from memory loss caused by a radio's frequency. Meanwhile, Walter (
John Noble
) is discouraged by Peter's (
Joshua Jackson
) work on the doomsday device.
Guest stars include Kevin Weisman, Ryan Mcdonald, Clark Middleton, Mark Acheson, Paula Lindberg, Minh Ly, Tyler McClendon and Vincent Tong.
10:00 PM
The Abducted
(season 3)
The case of a serial kidnapper in the alternate universe becomes personal for Broyles (
Lance Reddick
); Olivia (
Anna Torv
) reconnects with cabdriver Henry (
Andre Royo
) on her secret quest to return to the other side.
Guest stars include Will Rothhaar, Andre Royo, Curtis Harris, Michael Strusievici, Kirk Acevedo, Jason Diablo, Lawrence Haegert, John Hainsworth, Karen Holness, Tristin Leffler and
Stargate Atlantis'
David Nykl.
11:00 PM
Transilience Thought Unifier Model-11
12:00 AM
6995 kHz
01:00 AM
The Abducted