Source: Syfy
schedulebot
[
NOTE: Syfy schedule subject to change(s)
]
SUPERNATURAL MOVIE MARATHON - SYFY: SCHEDULE SATURDAY, FEBRUARY 2, 2013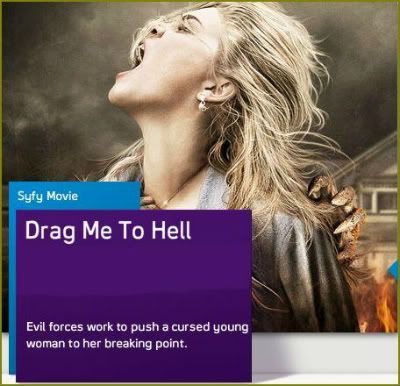 10:30 AM
Drag Me To Hell
Ambitious L.A. loan officer Christine Brown (
Alison Lohman
) incurs the wrath of a malevolent gypsy by refusing to grant her an extension on her home loan. Determined to get a promotion at work, Christine lays down the law when mysterious Mrs. Ganush literally begs for mercy at her feet. In retaliation, Mrs. Ganush places the curse of Lamia on her unfortunate target. Now, unless Christine can break the curse, she'll be tormented by a demon for three days before literally being dragged to hell.
Cast includes Alison Lohman, Justin Long, Lorna Raver, Dileep Rao, David Paymer, Adriana Barraza, Chelcie Ross,
Grimm's
Reggie Lee, Molly Cheek, Bojana Novakovic, Kevin Foster and
Stargate SG-1's
Alexis Cruz.
12:30 PM
The Devil's Advocate
Al Pacino
has a field day playing Lucifer disguised as the head of a law firm in this thriller about a lawyer (
Keanu Reeves
) who doesn't realize his new boss is a real demon.
Cast includes Keanu Reeves, Al Pacino, Charlize Theron, Jeffrey Jones, Judith Ivey, Connie Nielsen, Craig T. Nelson,
Castle's
Ruben Santiago-Hudson, Debra Monk and George Wyner.
03:30 PM
The Ninth Gate
A rare book dealer, while seeking out the last two copies of a demon text, gets drawn into a conspiracy with supernatural overtones.
Cast includes Johnny Depp, Frank Langella, Lena Olin, Emmanuelle Seigner, Barbara Jefford, Jack Taylor and James Russo.
06:30 PM
The Omen (2006)
A remake of the 1976 horror classic
The Omen
(1976), an American official realizes that his young son may literally be the devil incarnate.
Cast includes Liev Schreiber, Julia Stiles, Carlo Sabatini, Bohumil Svarc, Giovanni Lombardo Radice, Marshall Cupp, Seamus Davey-Fitzpatrick, David Thewlis, Reggie Austin, Tonya Graves, Pete Postlethwaite, Janet Henfrey, Mia Farrow, Nikki Amuka-Bird, and Michael Gambon.
09:00 PM
My Soul To Take
* Syfy Premiere! *
A serial killer returns 16 years after his death to claim the seven children born on the night he was killed. Meanwhile, the maniac's son Adam (
Max Thieriot
)---one of his intended victims---battles to lay his father's bloody legacy to rest.
Cast includes Max Thieriot, John Magaro, Denzel Whitaker, Zena Grey, Nick Lashaway, Paulina Olszynski, Jeremy Chu, Emily Meade, Raúl Esparza, Jessica Hecht, Frank Grillo, Danai Gurira, Harris Yulin, Shareeka Epps, Elena Hurst, Dennis Boutsikaris and Felix Solis.
11:00 PM
The Omen (2006)
01:30 AM
The Ninth Gate