Source: Syfy
schedulebot
[
NOTE: Syfy schedule subject to change(s)
]
SEA CRITTERS MOVIE MARATHON - SYFY: SCHEDULE FRIDAY, FEBRUARY 1, 2013
08:00 AM
Kraken: Tentacles Of The Deep
Two treasure hunters race against a gangster hunting for a valuable Greek opal; one of the hunters is also out for revenge, because an octopus-like creature that lives near the treasure site killed his parents 30 years earlier.
Cast includes Kristi Angus,
Glee's
Cory Monteith, Jack Scalia, Aleks Paunovic and
Stargate Universe's
Mike Dopud.
10:00 AM
Sharktopus
A scientist (
Eric Roberts
) working for the military develops a monstrous shark-octopus hybrid, which goes on a killing spree on the resort beaches of Mexico after the mechanism that controls the beast is accidentally destroyed.
Cast includes Eric Roberts, Kerem Bursin, Sara Malakul Lane, Héctor Jiménez, Liv Boughn, Julian Gonzalez Esparza, Blake Lindsey and Peter Nelson.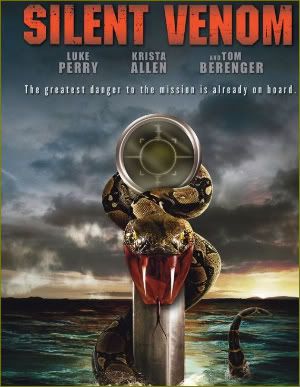 12:00 PM
Sea Snakes
[also known as
Silent Venom
]
A research scientist studying a new species of snake on a remote Pacific island is forced to leave via submarine when tensions escalate with the Chinese government, but on the trip home, the mutated snakes escape and wreak havoc upon their captors.
Cast includes Luke Perry, Krista Allen, Tom Berenger, Louis Mandylor, Anthony Tyler Quinn and John L. Curtis.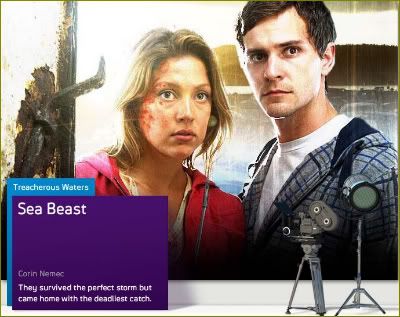 02:00 PM
Sea Beast
A small village unites in self-defense when a creature from the sea invades their fishing waters and threatens to destroy the town.
Cast includes
Stargate SG-1's
Corin Nemec, Miriam McDonald, Daniel Wisler, Camille Sullivan, Gwynyth Walsh, Brent Stait and Gary Hudson.
04:00 PM
Mega Shark Vs. Crocosaurus
A gigantic, immensely powerful shark does battle with a fierce primordial crocodile from Africa.
Cast includes Gary Stretch, Jaleel White, Sarah Lieving,
Star Trek: Voyager
/
Stargate Atlantis'
Robert Picardo, Gerald Webb, Dylan Vox, Hannah Cowley and Steve Mason.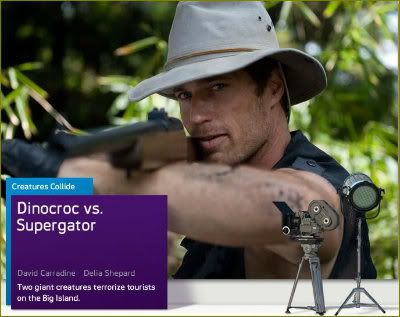 06:00 PM
Dinocroc Vs Supergator
Enormous reptiles escape from a research facility on a tropical island and feast on unwary tourists, culminating in a clash between a prehistoric crocodile and a monstrous alligator.
Cast includes David Carradine, James C. Burns, John Callahan, Lisa Clapperton, Bryan Hanna, Terrill Hardaway, Rib Hillis, Brooks Kephart, Corey Landis, Katy Magnuson, Amy Rasimas Holt, Jeff Rector, Travis Richey, Jenny Robinson, Tamie Sheffield, Delia Sheppard, Steve Silverie and Michael Swan.
[Time out for Syfy Friday programming: wrasslin' and Merlin]
03:00 AM
Dinocroc Vs Supergator