Source:
Syfy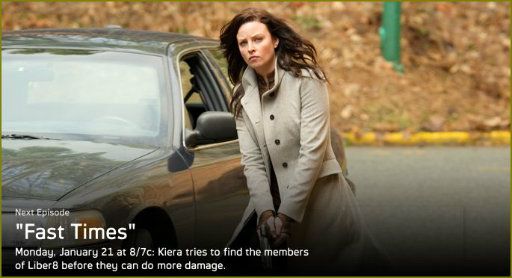 CONTINUUM - SYFY VIDEO: 'FAST TIMES' SNEAK PEEK - AIRS MONDAY, JANUARY 21, 2013 AT 8/7C
Watch a sneak peek of the next all-new episode of Continuum.
Kiera (
Rachel Nichols
) tries to find the members of
Liber8
before they do more damage. Her attempts are hindered when her cover is blown and her partner on the VPD, Carlos Fonnegra (
Victor Webster
), arrests her. Catch an all new episode of
Continuum
Monday at 8/7c on Syfy.
Guest stars include John Reardon, Sean Michael Kyer, Michael Rogers, Janet Kidder, Sean Tyson, John Innes, P. Lynn Johnson, Olivia Ryan Stern and Rocky Anderson.