Source:
Daily Record
[follow link for complete interview]
DAILY RECORD: Scots star David McCallum loves part in NCIS so much that he studies pathology in his spare time
GLASGOW-born McCallum is looking forward to celebrating his tenth year in the hit drama.
By
Brian McIver
January 8, 2013
AS super-suave agent Illya Kuryakin in
The Man from UNCLE
,
David McCallum
was one of the icons of the swinging Sixties.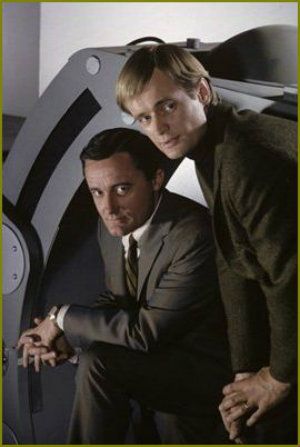 Robert Vaughn and David McCallum from The Man From U.N.C.L.E.
Almost 50 years later, the Scots actor has found himself back at the top of the telly charts with one of the most successful programmes of the last decade.
But his part could hardly be more different from the role of Kuryakin.
Now 78, Glasgow-born
McCallum
is about to celebrate 10 years in the smash-hit procedural drama
NCIS
, in which he plays medical examiner Donald 'Ducky' Mallard.
He says the part of the bookish old coroner alongside
Mark Harmon
has been one of the best he has enjoyed since he got his first Equity card back in 1946.
And the New York-based star has fallen in love with the part so much that for the last 10 years, he has been studying pathology in his spare time.
McCallum
explained: "
Very early in my career, I realised there would be many days when I wouldn't be working so I should find something to do, such as woodwork, painting, trying to play golf, or learning languages.
"
For the last 10 years, I've been studying pathology. I've got about six feet of books on death on shelves in my house, going back to the earliest Chinese studies on autopsies.
"
Mark Harmon is always telling me I am obsessed and I guess I am to a certain extent.
"
I've been down to the Medical Examiner's office in Los Angeles with coroner Craig Harvey and I've managed to not just watch autopsies through the glass, but actually stand in with him while he is doing one...
"
NCIS
season ten airs Tuesday at 8/7C on CBS.
CLICK HERE TO VIEW NCIS' 'SHABBAT SHALOM' EPISODE TRAILER - AIRS TUESDAY, JANUARY 8, 2013 ON CBS