Source:
Yahoo! TV
[follow link for complete interview]

YAHOO! TV: TV on DVD: 'Justified' star Walton Goggins talks new season, 'Lincoln,' 'Django Unchained,' and being a lady on 'Sons of Anarchy'
By
Kimberly Potts
Fri, Jan 4, 2013
Few actors had a better 2012 than "
Justified
" star
Walton Goggins
: he provided some much-needed comic relief in a very tense season of "
Sons of Anarchy
" with his memorable guest appearance as transgendered escort Venus Van Dam, and he had the unique experience of delving into both sides of the slavery issue with his performances in
Steven Spielberg's
"
Lincoln
" and
Quentin Tarantino's
"
Django Unchained
" on the big screen.
And, of course, he shined in the third season of FX's fantastic
Elmore Leonard
-inspired drama, which hits DVD this week just ahead of the show's fourth-season premiere on Jan. 8 at 10 PM. One of the highlights of "
Justified: The Complete Third Season
" on Blu-ray (Sony), in fact, is a nearly half-hour-long conversation between "
Justified
" Emmy nominees
Goggins
and
Timothy Olyphant
about their experience making the stylish, meticulously crafted western drama...
... In [
Justified's
] Season 4, Boyd is busily continuing to grow his Harlan County crime empire when he's confronted with a new challenger, a preacher named Billy (guest star
Joe Mazzello
), who tries to convince the local citizenry (i.e., Boyd's clientele) that they don't need to imbibe Mr. Crowder's recreational substances.
Goggins
chatted with Yahoo! TV about the crisis that kicks off for Boyd, about the bigger plan that the ever-clever Mr. Crowder might have in mind throughout Season 4, about how he sparked the idea for that "
SOA
" role, and about how meaningful it was to help play out a pivotal piece of our country's history in back-to-back dream roles on the big screen...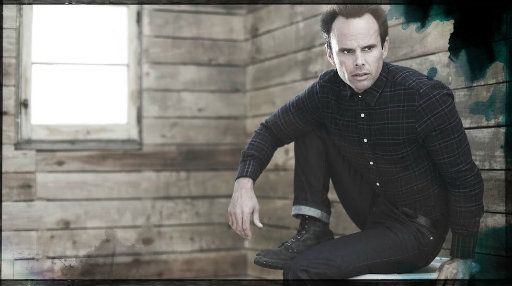 ...
Q: Our boy Boyd Crowder is in a very different place when the new season opens. How thrown is he by the appearance of this new preacher?
Walton Goggins:
"
I think Boyd is, for the first time, in charge, really in charge of something -- of an enterprise, so to speak, a criminal kind of entity. That is, the criminal empire that he runs in Harlan County. There's no one else really challenging him there. With that comes a lot of fiduciary responsibilities. Once you've made it, once you have something to lose, then you need to defend your territory. That's all new to Boyd. Between that, between his relationship with Ava, between the opportunities that are going to present themselves by working with the people up in Lexington and in Detroit, he is, in some ways, stepping way out of his league. That will continue as the season continues.

One part of that is greed. But what (showrunner) Graham (Yost) does and what Elmore Leonard does and what our writers try to do, when they are emulating Elmore, is give (Boyd) a reason for doing the things that he's doing. That's something that is the most important thing to me. Hopefully, what you'll see is that these steps, stepping out of one's comfort zone, are in the service of something greater. Boyd really has an endgame. He's working hard to that end. You won't really know what that endgame is until the season progresses. He sees this as a real opportunity to make some changes in his life that will affect him for the rest of his life and the people around him. We'll see whether or not he makes it...
" (Laughing)
Justified
season four premieres Tuesday, January 8, 2013 at 10/9C on FX.
CLICK HERE TO VIEW A VIDEO PROMO.