Source: Syfy
schedulebot
[
NOTE: Syfy schedule subject to change(s)
]
SUPERNATURAL MOVIE MARATHON - SYFY: SCHEDULE WEDNESDAY, JANUARY 9, 2013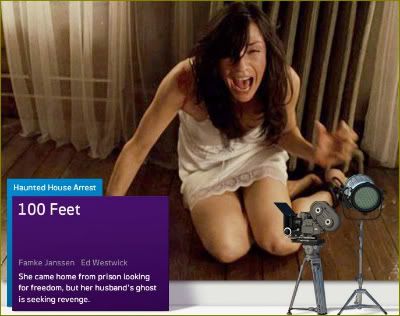 09:00 AM
100 Feet
Famke Janssen
stars in this haunted-house tale about a woman who is sentenced to house arrest after she killed her abusive spouse in self-defense. Written and directed by
Eric Red
.
Cast includes Famke Janssen, Bobby Cannavale, Ed Westwick, Michael Paré, Patricia Charbonneau and John Fallon.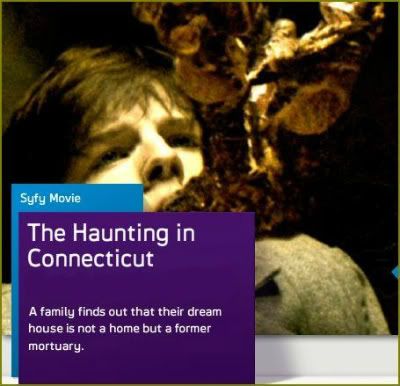 11:00 AM
The Haunting In Connecticut
When a family moves into a converted funeral home and falls under supernatural attack, desperate mother Sarah (
Virginia Madsen
) struggles to free her family from the grip of evil. Sarah and Peter Campbell have just moved to Connecticut with their young son Matt. When a malevolent otherworldly force begins to take control of the family, an enigmatic priest intervenes.
Cast includes Virginia Madsen, Kyle Gallner, Elias Koteas, Ty Wood, Martin Donovan, Sophi Knight, Amanda Crew, Erik J. Berg and John Bluethner.
01:00 PM
The Amityville Horror (1979)
James Brolin
and
Margot Kidder
in an adaptation of
Jay Anson's
bestseller about a family tormented by the supernatural.
Cast includes James Brolin, Margot Kidder, Rod Steiger, Don Stroud, Murray Hamilton, John Larch, Natasha Ryan, K.C. Martel, Meeno Peluce, Michael Sacks and Helen Shaver.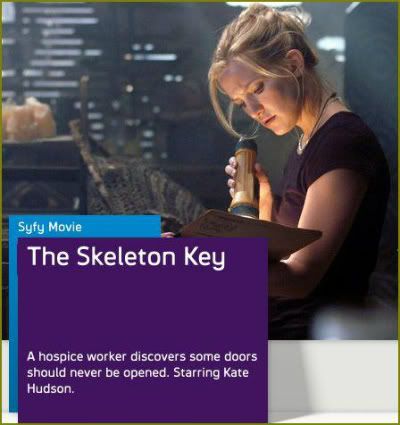 03:00 PM
The Skeleton Key
After New Orleans hospice worker Caroline (
Kate Hudson
) answers a help wanted ad, she finds herself working as the live-in caretaker of Ben Devereaux (
John Hurt
), a stroke victim who has lost his ability to speak. Ben's wife, Violet (
Gena Rowlands
), presents Caroline with a skeleton key to open any door in the house with the exception of one, which she claims she has never been able to open. But curiosity gets the best of her, and Caroline opens the door to find a wealth of materials representing the old house's history of hoodoo.
Cast includes Kate Hudson, Gena Rowlands, John Hurt, Peter Sarsgaard, Joy Bryant, Maxine Barnett, Fahnlohnee R. Harris and Marion Zinser.
05:00 PM
Shutter Island
U.S. Marshal Teddy Daniels (
Leonardo DiCaprio
) investigates the disappearance of a killer at a mental asylum located on an island currently in the path of a major hurricane. As Teddy's investigation continues, he suspects that the asylum's doctors are performing dangerous experiments and he begins to fear that there might be a supernatural presence on the island. Directed by
Martin Scorsese
.
Cast includes Leonardo DiCaprio, Mark Ruffalo, Ben Kingsley, Max von Sydow, Michelle Williams, Emily Mortimer, Patricia Clarkson, Jackie Earle Haley and Ted Levine.