Source: Syfy
schedulebot
[
NOTE: Syfy schedule subject to change(s)
]
APOCALYPTIC MOVIE MARATHON - SYFY: SCHEDULE SATURDAY, JANUARY 12, 2013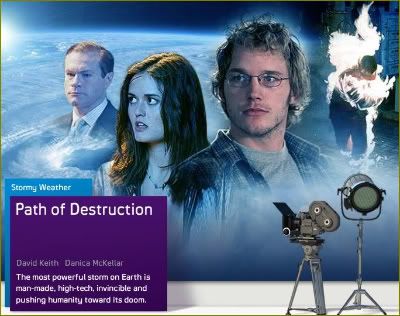 09:00 AM
Path Of Destruction
An experiment gone wrong results in an explosion that releases nanoparticles into the atmosphere, causing destructive weather conditions, and a reporter (
Danica McKellar
) holds the only evidence of what happened.
Cast includes Danica McKellar, David Keith, Chris Pratt, Stephen Furst, Franklin Dennis Jones and Richard Wharton.
11:00 AM
Megafault
A massive earthquake threatens to split the world in half, prompting a seismologist and a miner to intervene.
Cast includes Brittany Murphy, Eriq La Salle, Bruce Davison,
Smallville's
Justin Hartley, Paul Logan and Jack P. Downing.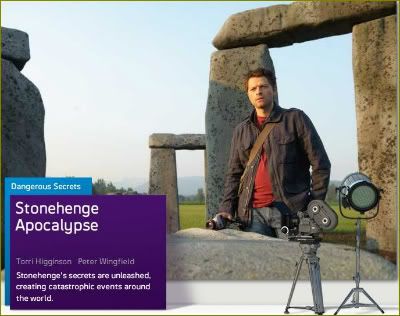 01:00 PM
Stonehenge Apocalypse
A radio talk-show host (
Misha Collins
) tries to warn the world about cataclysms spurred by the titular ancient monument.
Cast includes
Supernatural's
Misha Collins,
Stargate Atlantis'
Torri Higginson,
Sanctuary's
Peter Wingfield, David Lewis, Michael Kopsa, Brent Stait,
CSI New York's
Hill Harper, David Lovgren, Adrian Holmes, Aaron Pearl and Colin Lawrence.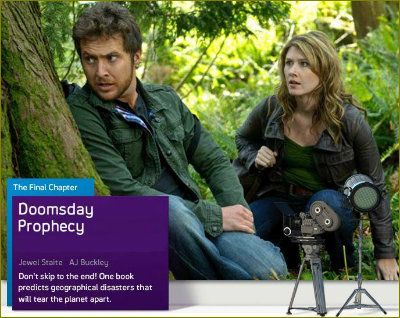 03:00 PM
Doomsday Prophecy
An archaeologist and a book editor try to save the world from a looming geological nightmare.
Cast includes
Stargate Atlantis'
Jewel Staite, A.J. Buckley, Gordon Tootoosis, Fernando Lara, Matthew Kevin Anderson, Rick Ravanello, David Richmond-Peck, Bruce Ramsay, Hiro Kanagawa, Jerry Wasserman, Phillip Mitchell, Roseanne Supernault and
Once Upon A Time's
Alan Dale.
05:00 PM
The Terror Beneath
Militant environmentalists Kate (
Luisa D'Oliveira
) and Joe (
Jesse Moss
) witness, and videotape, the rapid growth of a gigantic root system that literally begins mowing through the country like an earthquake. At the same time, government agent Jack Taylor (
Adrian Pasdar
) contacts plant expert Jocelyn Snow (
Stefanie von Pfetten
), who discovers that her ex-colleague, Frame Marcos (
James Morrison
), is the probable source of the ancient seed that started the whole ecological disaster. Under the growing threat of massive tsunamis should the enormous root system burrow under the ocean, Jack, Jocelyn, Joe and Kate confront Frame in his compound, then return to the place where it all began, with the hopes that Jocelyn can disable the embryonic root and bring the disaster to an end.
Cast includes Adrian Pasdar, Jesse Moss, James Morrison, Stefanie von Pfetten, Luisa D'Oliveira, David Lewis, David Richmond-Peck, Daniel Bacon and Nicholas Carella.
07:00 PM
Metal Tornado
- Syfy Premiere!
When a ground-breaking experiment goes awry, the energy overflows into a deadly magnetic tornado, forcing workers and scientists to scramble for safety. Scientists Steven Winters (
Todd Duckworth
), Michael Edwards (
Lou Diamond Phillips
) and Rebecca Adler (
Nicole de Boer
) must stop this extraordinary threat.
Cast includes
Longmire's
Lou Diamond Phillips, Nicole de Boer, Greg Evigan, Stephen MacDonald, John Maclaren, Todd Duckworth, Cinthia Burke, Sophie Gendron, Frank Schorpion and Sean Tucker.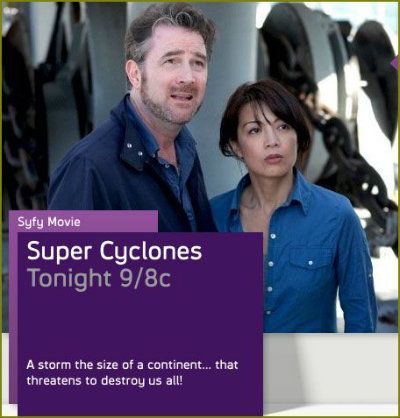 09:00 PM
Super Cyclone
- Syfy Premiere!
When a super cyclone threatens the entire American eastern seaboard, a lone meteorologist (
Ming Na
) and a petroleum engineer (
Nicholas Turturro
) must battle the elements to stop the threat.
Cast includes
Blue Bloods'
Nicholas Turturro,
Stargate Universe's
Ming-Na, Andy Clemence, Darin Cooper, Jonathan Le Billon, Dylan Vox, Gerald Webb, Wayne Lopez, Steve Hanks, AnnaMaria Demara, Mitch Lerner, Jamie Burton-Oare, Carl Gilliard, Todd James Jackson, Tracy Winters, Mat Lageman and Gospel Jackson.
Written and directed by
Liz Adams
.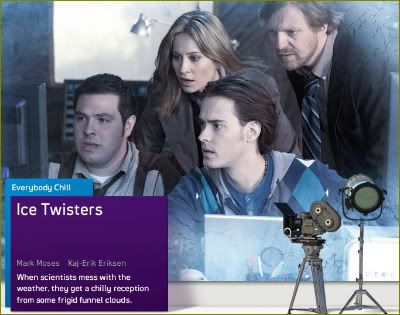 11:00 PM
Ice Twisters
Scientists seek the assistance of a science fiction novelist when a top-secret government program devoted to researching experimental weather manipulation techniques results in the creation of deadly tornadoes made of ice.
Cast includes Mark Moses, Camille Sullivan, Kaj-Erik Eriksen, Alex Zahara, Ryan Kennedy, Robert Moloney, Dion Johnstone and Ingrid Torrance.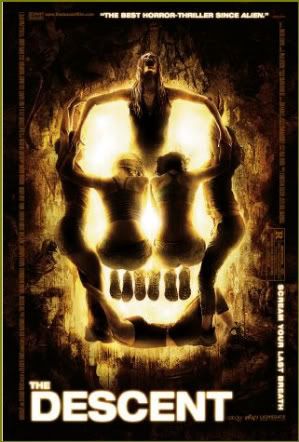 01:00 AM
Descent
Scientists uncover a secret government plot when investigating unusual volcanic activity in the Pacific Ring of Fire.
Cast includes Shauna Macdonald, Natalie Jackson Mendoza, Alex Reid, Saskia Mulder, MyAnna Buring and Nora-Jane Noone.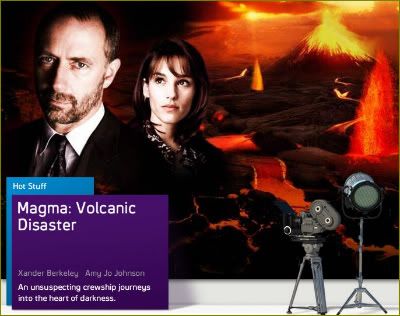 03:00 AM
Magma: Volcanic Disaster
Xander Berkeley
and
Amy Jo Johnson
star in this ecological-disaster flick that follows a team of seismologists as they investigate a series of volcanic events that could lead to the extinction of all life on Earth. Directed by Ian Gilmore.
Cast includes Xander Berkeley, Amy Jo Johnson, David O'Donnell, George R. Sheffey, Michael Durrell and Reiko Aylesworth.