Source: Chiller TV
schedulebot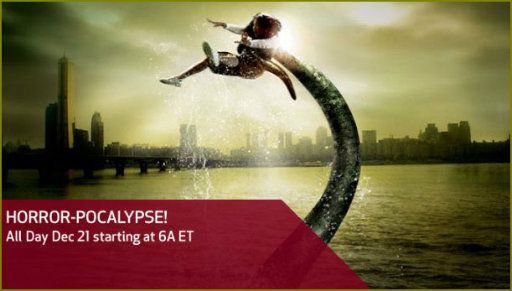 HORROR-POCALYPSE - CHILLER TV: HORROR MOVIE MARATHON SCHEDULE - FRIDAY, DECEMBER 21, 2012
It's the end of the world - so why not celebrate with an all-day marathon of horror movies?
06:00 AM
Banshee!!!
Ashley Bates
stars in this horror movie about a mysterious beast with the power to control sound waves who torments a group of college students. Their perceptions twisted by the telepathic creature, the terrified students flee to a secluded farmhouse and prepare to make their last stand.
Cast includes Ashley Bates, David McCarthy, Kevin Shea, Kerry McGann, Iris McQuillan-Grace, Troy Walcott, A. Mike Forgette, Cristina Santiago, John Doolan and Nathan Pupillo.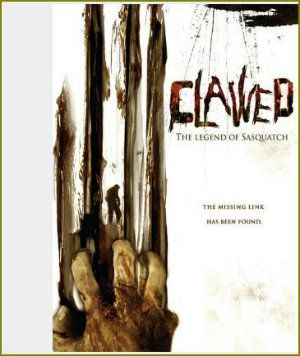 08:00 AM
Clawed: The Legend Of Sasquatch
Hunters and high-school students pursue a legendary beast that killed a group of poachers.
Cast includes Dylan Purcell, Brandon Henschel, Miles O'Keeffe, Jack Conley, Chelsea Hobbs, Casey LaBow, Nathaniel Arcand, Michael Bailey Smith and Cooper Huckabee.
10:00 AM
Marabunta
The awakening of a dormant volcano stirs ravenous soldier ants to attack a small Alaska town. Also known as "
Legion of Fire: Killer Ants
."
Cast includes Eric Lutes, Julia Campbell, Mitch Pileggi, Jeremy Foley, Bill Osborn, Dallen Gettling, Patrick Fugit and H.E.D. Redford.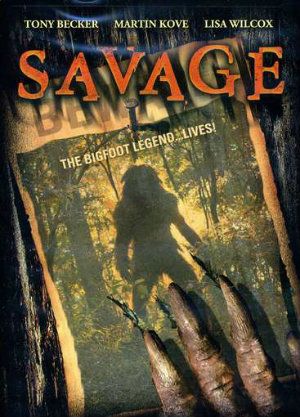 12:00 PM
Savage
A blazing fire rips its way through Bear Valley National Park. As the firefighters try to contain it, the animals are being forced out of their habitat including a beast that was better left undiscovered.
Cast includes Martin Kove, Tony Becker, Lisa Wilcox, Anna Enger, Shane Callahan and Jack Harrison.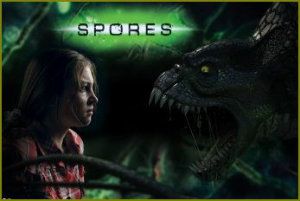 02:00 PM
Spores
A group of friends go out of town and stumble upon an old soviet factory that has been long abandoned and fallen into great disrepair, but they decide to explore it and discover that the location presents unimaginable danger from a malevolent source.
Cast includes Natalia Rybjakova, Oleg Burlakov, Valery Kuzmenko, Elena Sherbakova, Vladimir Kokin, Leonid Gusarov and Nikolay Dubkov.
04:00 PM
The Host
Frightful and funny creature feature about a dysfunctional Korean family trying to save their daughter (
Ko Ah-sung
) from the clutches of a mutant monster.
Cast includes Kang-ho Song, Hie-bong Byeon, Hae-il Park, Doona Bae, Ah-sung Ko, Dal-su Oh, Jae-eung Lee and Dong-ho Lee.
06:30 PM
Damned By Dawn
A young woman visiting her dying grandmother stirs a banshee and unleashes the forces of evil on a secluded farming community.
Cast includes Renee Willner, Bridget Neval, Dawn Klingberg, Danny Alder, Taryn Eva, Mark Taylor, Peter Stratford, Nina Nicols and Trent Schwarz.
08:30 PM
Grey Skies
Robert (
Aaron McPherson
) and his friends fend off evil aliens during a college reunion at a remote cabin.
Cast includes Michael Cornacchia, Thela Brown, Marie Del Marco, Shelley Dennis, Anne Griffin, Stacy Jorgensen, Jeff Lorch, Aaron McPherson, Scott Mullin and Jeff Schuetze.
10:30 PM
The Signal
Mysterious electronic transmissions drive people to murder and madness in this derivative low-budget shocker unfolding in three overlapping parts.
Cast includes Anessa Ramsey, Sahr Ngaujah, AJ Bowen, Matthew Stanton, Suehyla El-Attar, Justin Welborn, Cheri Christian, Scott Poythress, Christopher Thomas, Lindsey Garrett and Chad McKnight.
01:00 AM
The Host
03:30 AM
Damned By Dawn