Source: Cloo TV
schedulebot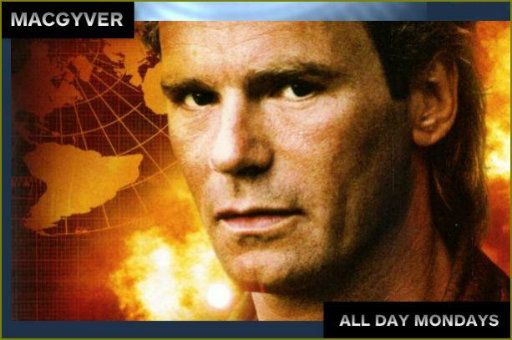 MACGYVER - CLOO TV: MARATHON SCHEDULE MONDAY, DECEMBER 17, 2012
MacGyver cast includes Richard Dean Anderson (as Angus MacGyver) and Dana Elcar as Peter Thornton.
06:00 AM
THE ENDANGERED
MacGyver visits an ex-girlfriend, a ranger at a wildlife reserve, only to have his vacation turned into a bloody confrontation by poachers.
Guest stars include Moira Walley-Beckett, John Dennis Johnston,
Stargate SG-1's Don S. Davis
, Robin Mossley, Stephen E. Miller, Steve Blalock, Vince Deadrick Jr., Don MacKay, Sonia Norris and Vince Germann.
07:00 AM
MURDERER'S SKY
The takeover of a mogul's company involves a ninja, and it's up to MacGyver and the mogul's grandson to halt the bloodshed.
Guest stars include Roderick Cook, Soon-Tek Oh, Tia Carrere, Keye Luke, Ernie Reyes Jr., Al Leong, Terry Barclay and Pat Bermel.
08:00 AM
BLOOD BROTHERS
MacGyver tries to stop a friend's son from using a gun to defend himself against drug-dealing hoodlums.
Guest cast includes Jason Priestley, Dirk Blocker, Bernie Coulson and Ramón Franco.
09:00 AM
ON A WING AND A PRAYER
Thornton and a nun (
Susan Walden
) haven't a prayer after Central American rebels take them hostage.
Guest cast includes Bruce McGill, Jenny Gago, Garwin Sanford and Susan Walden.
10:00 AM
COLLISION COURSE
MacGyver is chosen to test a car engine designed by the Foundation, but a rival car owner (
G. Gordon Liddy
) has some dirty tricks up his sleeve.
Guest stars include Patrick Wayne, Kai Wulff, Katey Wright, G. Gordon Liddy, Don Saunders, Jerry Wasserman, Peter Williams, Gary Hetherington and Sheelah Megill.
11:00 AM
THE BATTLE OF TOMMY GIORDANO
After MacGyver's friend wins custody of her son, her ex-husband seeks the help of his uncle---the head of a crime family.
Guest stars include Penny Peyser, Tony Dakota, Peter Yunker, Peter Blackwood, Joseph Wiseman, Howard Storey, Charles Andre, James Crescenzo, Mike Mitchell and Serge Houde.
12:00 PM
THE CHALLENGE
* Excellent Episode! *
A youth from a club run by MacGyver's friend is framed for a theft by a racist who'll stop at nothing to shut the club down.
Guest stars include Michael MacRae, Cuba Gooding Jr., Roxanne Reese, Michael D. Roberts, R. Nelson Brown, Charles Kristian, Rob Roy, Charles Payne, Sam Sarkar, Alec Burden, Marlane O'Brien, Paul Bittante and Suleka Mathew.
01:00 PM
THE ENDANGERED
02:00 PM
MURDERER'S SKY
03:00 PM
BLOOD BROTHERS
04:00 PM
ON A WING AND A PRAYER
05:00 PM
COLLISION COURSE
06:00 PM
DEADLY DREAMS
An escaped killer who MacGyver is searching for, is actually the pawn of a mastermind criminal who is still locked up and planning revenge on the female detective who incarcerated him.
Guest stars include Kim Zimmer, William Morgan Sheppard, Gary Chalk and Brenda Crichlow.
08:00 PM
MA DALTON
Once Jack Dalton (
Bruce McGill
) finds his long-lost mother, he discovers that she is a fugitive. The police, a bounty hunter, and a corrupt government official are all determined to catch her first.
Guest stars include Bruce McGill, Leslie Carlson, Ed Nelson, Constance Towers and Richard Lawson.
09:00 PM
CLEO ROCKS
A figure lurking in the shadows of a rock musical wants to use the star, MacGyver's friend Penny (
Teri Hatcher
), in a crazed play of vengeance against MacGyver.
Guest stars include Teri Hatcher, Robert Donner, Michael Des Barres, Max Reimer, James Hibbard and Susan Chapple.
10:00 PM
FRATERNITY OF THIEVES
A technology system could be compromised by espionage, and one of the culprits is someone within the Foundation.
Guest stars include James Karen, Hank Stratton, Robert Metcalfe, Don Galloway, Bill Murdoch, David Ley, David Bloom, John Payne and Vladimir Kulich.
11:00 PM
THE BATTLE OF TOMMY GIORDANO
Tuesday, December 18 2012
12:00 AM
THE CHALLENGE
01:00 AM
THE SURVIVORS
02:00 AM
DEADLY DREAMS
03:00 AM
MA DALTON
04:00 AM
CLEO ROCKS
05:00 AM
FRATERNITY OF THIEVES