Source: Syfy
schedulebot
[
NOTE: Syfy schedule subject to change(s)
] and
NBCUMV Press Release
[follow link for complete press release]
END OF THE WORLD MOVIE MARATHON - SYFY: SCHEDULE FRIDAY, DECEMBER 21, 2012
SYFY CELEBRATES THE HOLIDAYS WITH END OF THE WORLD MOVIE MARATHON
[
NOTE
:
Updated December 21, 2012
.]
Syfy will close out 2012 with a holiday programming festival featuring an End of the World movie marathon – in case the Mayan apocalyptic prediction proves false. The holiday festivities kick off on Thursday, December 20 at 8PM with the End of the World festival, concluding Friday, December 21 at 3AM, highlighted by the Thursday night specials
Countdown to Doomsday
(12AM) and
2012: Startling New Secrets
(2AM).
08:00 AM
2012: Startling New Secrets
Examining how people have reacted to apocalyptic visions spurred by the Mayan calendar and its end date, Dec. 21, 2012. Included: an ancient Egyptian hall of records and sites in Central America are visited. Host:
Lester Holt
.
10:00 AM
2012: Supernova
An astrophysicist assembles a team to find a way to shield Earth from a devastating burst of radiation released by an unstable star in a nearby galaxy.
Cast includes Brian Krause, Heather McComb, Najarra Townsend, Allura Lee, Alan Poe and Stephen Schneider.
12:00 PM
2012: Ice Age
Patrick Labyorteaux
stars in this sci-fi disaster epic about a desperate American family fleeing for safety after a volcanic eruption in Iceland threatens to plunge the entire globe into a new ice age.
Cast includes
JAG's
Patrick Labyorteaux, Julie McCullough, Katie Wilson, Nick Afanasiev, Kyle Morris, Cedric Scott, Chacko Vadaketh, Ted Monte, David Light and Gerald Webb.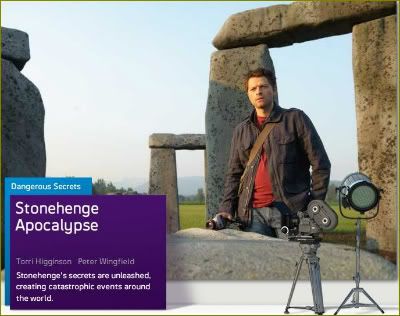 02:00 PM
Stonehenge Apocalypse
A radio talk-show host (
Misha Collins
) tries to warn the world about cataclysms spurred by the titular ancient monument.
Cast includes
Supernatural's
Misha Collins,
Stargate Atlantis'
Torri Higginson,
Sanctuary's
Peter Wingfield, David Lewis, Michael Kopsa, Brent Stait,
CSI New York's
Hill Harper, David Lovgren, Adrian Holmes, Aaron Pearl and Colin Lawrence.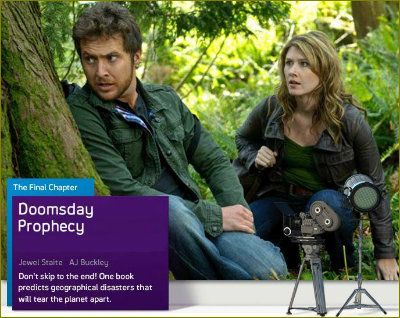 04:00 PM
Doomsday Prophecy
An archaeologist and a book editor try to save the world from a looming geological nightmare.
Cast includes
Stargate Atlantis'
Jewel Staite, A.J. Buckley, Gordon Tootoosis, Fernando Lara, Matthew Kevin Anderson, Rick Ravanello, David Richmond-Peck, Bruce Ramsay, Hiro Kanagawa, Jerry Wasserman, Phillip Mitchell, Roseanne Supernault and
Once Upon A Time's
Alan Dale.
06:00 PM
'12 Disasters Of Christmas
A father (
Ed Quinn
, "
Eureka
," "
Starship Troopers 2
") learns that his daughter (
Magda Aponowicz
, "
Kyle XY
," "
Caprica
") is really the "Chosen One" who, alone, can stop further catastrophe – if he can stave off the lunatic townspeople blaming her for the community's destruction. The movie also stars "
Battlestar Galactica's
"
Donnelly Rhodes
.
Cast includes Ed Quinn, Magda Apanowicz, Holly Elissa, Ryan Grantham, Scarlett Bruns, Donnelly Rhodes, Brenna O'Brien, Andrew Airlie, Roark Critchlow, Kaj-Erik Eriksen and Greg Kean.
[Time out for wrestling at 8/7C and repeats of
Warehouse 13
,
Haven
and
Eureka
Christmas episodes beginning at 10/9C. For more info, click
here
.
Haven
season 3 finale, '
Thanks for the Memories
,' rescheduled to air on Thursday, January 17, 2012. For more info, click
here
.]
01:00 AM
Countdown To Doomsday
Speculations concerning Earth's next mass extinction are discussed during this look at 10 possible scenarios that could impact the world. Host:
Matt Lauer
.
03:00 AM
2012: Ice Age