Source: Syfy
schedulebot
[
NOTE: Syfy schedule subject to change(s)
]
SCIFI MOVIE MARATHON - SYFY: SCHEDULE SUNDAY, DECEMBER 2, 2012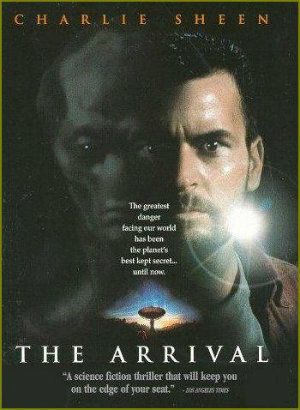 10:30 AM
The Arrival
A complex plot concocted by extraterrestrials is uncovered when an astronomer (
Charlie Sheen
) discovers an eerie sound on the radio airwaves.
Cast includes Charlie Sheen, Lindsay Crouse, Richard Schiff, Ron Silver, Teri Polo, Phyllis Applegate, Alan Coates, Leon Rippy and Buddy Joe Hooker.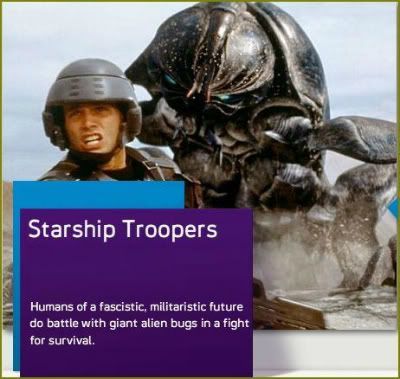 01:00 PM
Starship Troopers
Ultraviolent futuristic thriller about coed infantry trainees preparing to wipe out mankind's newest enemy: giant bugs from outer space.
Cast includes Casper Van Dien, Dina Meyer, Denise Richards, Jake Busey, Neil Patrick Harris, Clancy Brown, Patrick Muldoon, Michael Ironside, Marshall Bell, Bruce Gray,
CSI's
Robert David Hall,
Psych's
Timothy Omundson and Dale Dye.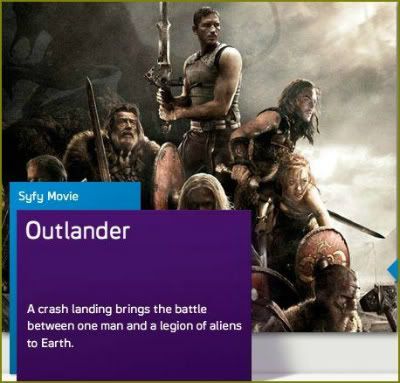 04:00 PM
Outlander
A warrior from space crash-lands into ancient Norway and helps Viking tribes battle a bloodthirsty monster.
Jim Caviezel
stars in this sc-fi adventure fantasy.
Cast includes
Person of Interests'
Jim Caviezel, Sophia Myles, Jack Huston, John Hurt, Cliff Saunders, Patrick Stevenson, Aidan Devine and Ron Perlman.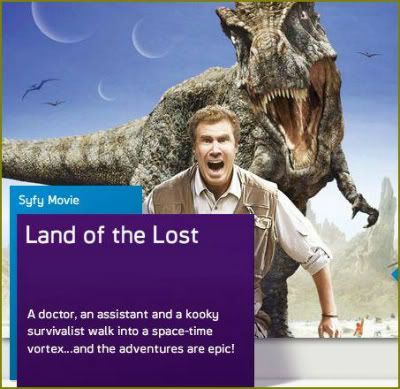 06:30 PM
Land Of The Lost
Discredited scientist Dr. Rick Marshall (
Will Ferrell
) proves his outrageous theories on time travel are true, but in the process he gets stranded with his partners in a strange world full of unusual creatures. His loyal research assistant Holly (
Anna Friel
) and firearms enthusiast Will (
Danny McBride
) help Marshall befriend a monkey-like beast named Chaka (
Jorma Taccone
) in an attempt to get back home.
Cast includes Will Ferrell, Anna Friel, Danny McBride, Jorma Taccone and John Boylan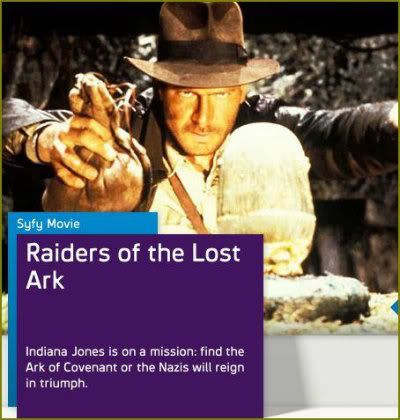 08:30 PM
Raiders Of The Lost Ark
Indiana Jones (
Harrison Ford
) is assigned to find the mystically empowered Ark of the Covenant before the Nazis can obtain it for their own evil use.
Cast includes Harrison Ford, Karen Allen, Paul Freeman, Ronald Lacey, John Rhys-Davies, Denholm Elliott, Alfred Molina and Wolf Kahler.
11:00 PM
Land Of The Lost
01:00 AM
Pandorum
After awakening from hypersleep with no memory of their mission, astronauts Lt. Payton (
Dennis Quaid
) and Cpl. Bower (
Ben Foster
) discover that the 60,000 passengers aboard their vast spacecraft have vanished without a trace. Little do they realize that they will soon be fighting for the survival of the entire human race.
Cast includes
Vegas'
Dennis Quaid, Ben Foster, Cam Gigandet, Antje Traue, Cung Le, Eddie Rouse and
The Walking Dead's
Norman Reedus.
03:30 AM
The Ferryman
Passengers on a charter boat to Fiji wind up sharing the cruise with an injured survivor rescued from an abandoned yacht, a restless soul with a horrible secret.
Cast includes John Rhys-Davies, Kerry Fox, Sally Stockwell, Amber Sainsbury, Tamer Hassan, Craig Hall, Julian Arahanga and Lawrence Makoare.