Source:
Vancouver Sun
[follow link for complete interview and to view photo gallery]

VANCOUVER SUN: Once Upon a Time stars caught up in the magic of B.C.
Kind of like the weather, 'it's all around us,' Goodwin says
By
Alex Strachan
October 30, 2012
In this world and the next, weather is the great equalizer.
Once Upon a Time
may be a fairy tale about magic kingdoms, star-crossed damsels, charming princes, spells of enchantment and the power of imagination, but real life has a way of intruding on reel life, often at the most inopportune moments.
On this cold, dark late October morning, a lean, hard wind and sheets of driving rain knife across the Steveston, B.C., flats just as the heroes and heroines of TV's most magic hour spill on to Moncton St. — Main Street in the present-day town of Once Upon a Time's imaginings...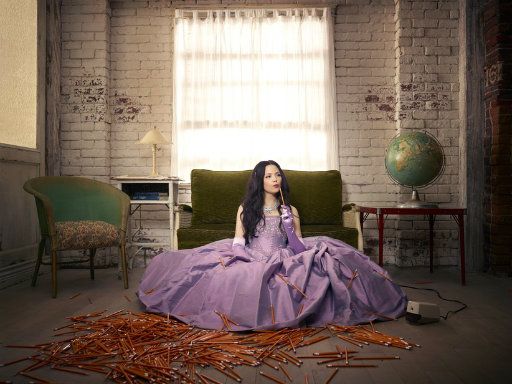 ... On the first take,
Ginnifer Goodwin
, playing Mary Margaret — she also plays Snow White in Once Upon a Time's fairy-tale world — is ebullient, laughing easily as she links arms with her fellow actors
Jennifer Morrison
,
Josh Dallas
and
Jared Gilmore
. On the second take, the smiles and laughter are still believable but this time, when [first-assistant director
Morgan] Beggs
calls, "Cut!" the group huddles together for that one moment of extra warmth before the third take. By the end of the third take,
Goodwin
and
Morrison's
teeth are chattering as
Dallas
— Prince Charming in
Once Upon a Time's
fairy-tale kingdom — and a pair of crew members offer blankets and heavy coats.
The episode, the ninth in
Once Upon a Time's
second season as one of Sunday night's most beloved, avidly followed and most watched primetime entertainment programs, is called
Queen of Hearts
, and is tentatively slated to air on Nov. 25...
... Moments later,
Goodwin
, her teeth no longer chattering, ducks into the Storybrooke Pet Shelter — "Do you have a radio, or are you just guessing?" a bemused assistant director tells the production assistant, when told, "They're filming inside," — throws her coat over the back of a director's chair and sets herself down, relieved to be out of the rain, her eyes bright with energy.
She played one of the lead roles in the acclaimed five-year HBO polygamist drama
Big Love
, as Margene Heffman, third wife to
Bill Paxton's
Bill Henrickson.
Once Upon a Time
is a whole different world, though. The audience for a popular primetime network drama — and, with 14 million U.S. viewers for last month's second-season premiere,
Once Upon a Time
is exceedingly popular — is vast compared to that of an HBO drama, even an Emmy and Golden Globe-nominated drama like Big Love.
Goodwin
is now recognized and stopped wherever she goes.
"
It's taken some adjustment
,"
Goodwin
says. "
Because I've always led an anonymous life
..."
CLICK HERE TO VIEW MORE PHOTOS
Once Upon a Time airs Sundays on CTV at 7 p.m. and on ABC at 8 p.m.