Source:
USA Network
You Tube channel and USA Network
schedulebot

NCIS - USA NETWORK VIDEO: COLUMBUS DAY SEASON SIX MARATHON - MONDAY, OCTOBER 8, 2012
Celebrate Columbus Day by discovering an all-day long marathon of NCIS on USA Network. The discovery begins at 6AM EST.
NCIS cast includes Mark Harmon, Michael Weatherly, Pauley Perrette, David McCallum, Sean Murray, Cote de Pablo, Brian Dietzen, Rocky Carroll, Lauren Holly and Sasha Alexander.
06:00 AM
LAST MAN STANDING
In the sixth-season opener, the team investigates the murder of a Navy petty officer, and Gibbs (
Mark Harmon
) discovers a link between the case and Vance's (
Rocky Carroll
) decision to break up the team.
Guest stars include Liza Lapira, Jonathan LaPaglia, Jonathan Mangum, Jenny O'Hara, Eric Jungmann, Michael Nouri, Merik Tadros, Austin Basis, Natalie Denise Sperl, Thomas Owen and Andrew Hwang.

07:00 AM
AGENT AFLOAT
The probe of a mysterious suicide aboard an aircraft carrier reveals it may be part of a bigger and deadlier plan.
Guest stars include Chris Mulkey, Eric Nenninger, Anthony Brandon Wong, Rene L. Moreno, James Martinez and Marc Jablon.
08:00 AM
CAPITOL OFFENSE
A prominent senator (
Tim DeKay
) asks Gibbs (
Mark Harmon
) to solve the murder of a female Navy officer.
Guest stars include
White Collar's
Tim DeKay, Susan Floyd, Marcus Chait, William Bumiller, Bill Sage and Sara Sanderson.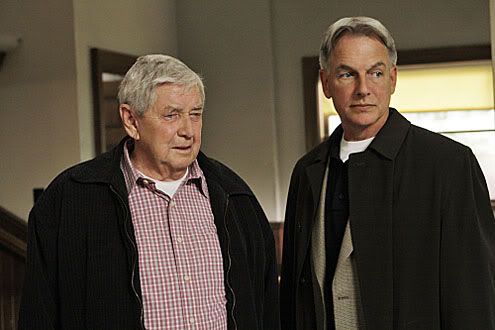 Ralph Waite and Mark Harmon
09:00 AM
HEARTLAND
Two marines are murdered and the investigation leads Gibbs (
Mark Harmon
) back to his hometown, where secrets about his past come to light.
Ralph Waite
guest stars.
Guest stars include Ralph Waite, Richard Lineback, Casey Sander, Christian Campbell, Dendrie Taylor, Kayla Mae Maloney, Geno Monteiro, Aviva, Erik Eidem, Sean Harmon, Brandon Hirsch, Clint Carmichael, Marcus Christian, Thomas Blake Jr. and Griffin Churchill.
10:00 AM
NINE LIVES
Gibbs' (
Mark Harmon
) search for a marine's killer leads to an encounter with FBI agent Fornell (
Joe Spano
).
Guest stars include Ray Abruzzo,
Castle's
Jon Huertas, Mercedes Renard, Mark Allan Stewart and Joe Spano.
11:00 AM
COLLATERAL DAMAGE
The team probes a bank robbery that ends with a murder, and Gibbs (
Mark Harmon
) doubts his own judgment when a rookie is assigned to help in the investigation.
Guest stars include Rey Valentin, Liza Lapira, Eric Martsolf, Lenny Schmidt and
Star Trek Enterprise's
Anthony Montgomery.
12:00 PM
ROAD KILL
The team investigates the death of a petty officer, who was killed in a car accident, but the agents suspect foul play.
Antonio Sabato Jr.
and
Tracy Scoggins
guest star.
Guest stars include Tracy Scoggins, Antonio Sabato Jr., Brian Letscher, Kai Lennox, Andrew Rothenberg, John Henry Canavan, Brian R. Norris, Michelle Mulitz and Christopher McDaniel.
Mark Harmon and Muse Watson
01:00 PM
DELIVERANCE
The investigation into the death of a Marine leads the team into the middle of an inner-city gang war, forcing Gibbs (
Mark Harmon
) to confront a secret from his past.
Guest stars include Muse Watson, Kurt Caceres, Jesse Garcia, Kari Coleman, Joseph Julian Soria, Chad Todhunter, Ana Mercedes, Héctor A. García, Eloy Méndez, Frank Alvarez and Sean Harmon.
02:00 PM
BOUNCE
A murder reopens a case from Tony's (
Michael Weatherly
) past, forcing him and Gibbs (
Mark Harmon
) to reverse roles.
Guest stars include Paul Greene, Scott Connors, Paul Terrell Clayton, April Parker-Jones and Matt Crabtree.
03:00 PM
SOUTH BY SOUTHWEST
A fellow agent is murdered, sending the team to the desert to find a woman who may have answers.
Guest stars include Lance Henriksen,
Revolution's
Tim Guinee,
Babylon 5's
Mira Furlan, Patrick St. Esprit, Robert Ri'chard, Barry Livingston, Matt Miller and Zach Lewis.
04:00 PM
KNOCKOUT
Vance's (
Rocky Carroll
) friend is killed, prompting the director to use Gibb's (
Mark Harmon
) team for his own private investigation and spurring Gibbs to look into Vance's past.
Guest stars include Lou Beatty Jr., Oscar Torre, Rochelle Aytes, Obba Babatundé, Theo Breaux, Ray Campbell, Khamani Griffin, Amin Joseph, China Anne McClain, Paula Newsome and Deprece Reddick.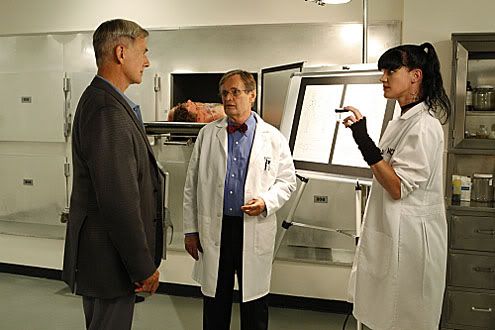 Mark Harmon, David McCallum and Pauley Perrette
05:00 PM
HIDE AND SEEK
A boy finds a murder weapon, and the team works backward to discover who was killed and the identity of the gun's owner.
Guest stars include Markus Flanagan, Rebecca Creskoff, Braeden Lemasters, Ronnie Gene Blevins, Amelia Bryn Smith, Carlease Burke, Kendall Ryan Sanders and Rico Rodriguez.
06:00 PM
DEAD RECKONING
Gibbs (
Mark Harmon
) has no choice but to team up with shifty Trent Kort (
David Dayan Fisher
) to pursue one of
NCIS'
most wanted criminals.
Guest stars include Christian Clemenson, David Dayan Fisher, James Ellis Lane, Liisa Cohen, Thom Williams and Eric Neil Gutierrez.
NCIS season ten airs Tuesday at 8/7C on CBS.