Source:
The Daily Dragon
[follow link for complete panel report]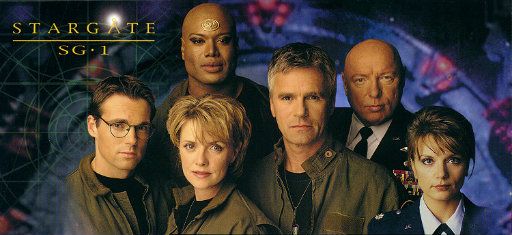 DAILY DRAGON ONLINE: The Many Faces of Richard Dean Anderson
By
Nancy Northcott
and
Debbie Yutko
September 1, 2012
The "
Richard Dean Anderson
" panel on Friday at 1PM kicked off with tremendous applause at the star's entrance. The program followed a Q&A format, with runners distributing paper and pencils for questions and then delivering them to the moderator.
Asked for his impressions of Dragon*Con,
Richard Dean Anderson
said he had been to Atlanta once before, shooting a "movie of the week type thing," [NOTE: possibly '95's
Past the Bleachers
] and loved the city. He stayed in Buckhead, went out walking a lot, and attended a hockey game...
... The last questioner asked if
Anderson
had particularly fond memories of the late
Don S. Davis
, who played General Hammond on
Stargate SG-1
.
Anderson
responded, "
Don was one of the most lovely gentlemen I've ever gotten to work with
" and "
the most effusively complimentary person
" but with "
nothing that was not genuine.
" He also described
Davis
as a "
straightforward good old boy
," adding that he could listen to
Davis
"
all day long weave stories of the Ozarks
."
Anderson
added that his
MacGyver
costar, the late
Dana Elcar
, shared many of the same traits...

CLICK HERE TO VIEW THE MACGYVER MARATHON SCHEDULE ON CLOO TV ON MONDAY, SEPTEMBER 10, 2012