Source: Syfy
schedulebot
[
NOTE: Syfy schedule subject to change(s)
]
VAMPIRE MOVIE MARATHON - SYFY: SCHEDULE SATURDAY, JULY 14, 2012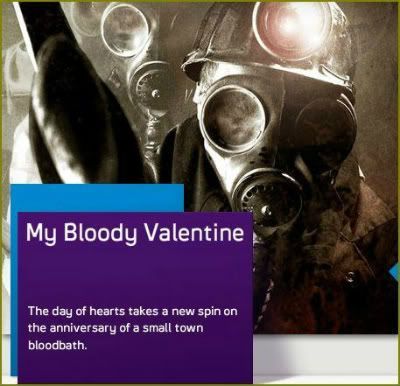 10:30 AM
My Bloody Valentine
Remake of the 1981 slasher classic about a homicidal maniac terrorizing a small mining town on Valentine's Day.
Cast includes
Supernatural's
Jensen Ackles, Jaime King, Kerr Smith, Betsy Rue, Edi Gathegi, Tom Atkins, Kevin Tighe and Megan Boone.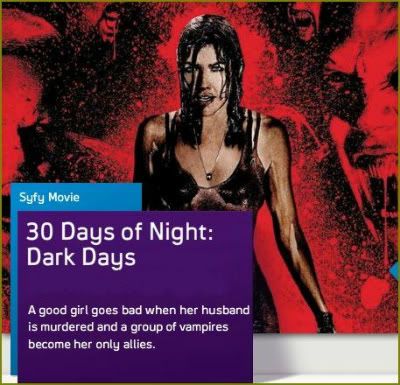 12:30 PM
30 Days Of Night: Dark Days
Following the gruesome vampire siege in Barstow, Alaska, Stella (
Kiele Sanchez
) moves to L.A. and decides to avenge the death of her husband by bating the local bloodsucking population into a fight.
Cast includes Kiele Sanchez, Rhys Coiro, Diora Baird, Harold Perrineau, Mia Kirshner, Troy Ruptash, Ben Cotton, Katharine Isabelle and Jody Thompson.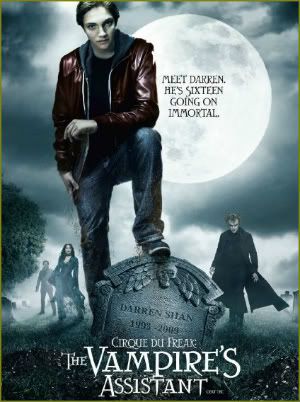 02:30 PM
Cirque Du Freak: The Vampire's Assistant
Small-town teen Darren (
Chris Massoglia
) falls in with a traveling freak show after being transformed into a vampire by the ringmaster. As Darren makes friends with the freaks, he discovers that the vampires are involved in a war with their rivals, the Vampanese, and that the supernatural underworld is about to explode.
Cast includes John C. Reilly, Josh Hutcherson, Chris Massoglia, Jessica Carlson,
Fringe's
Michael Cerveris, Ray Stevenson, Patrick Fugit, Ken Watanabe, Salma Hayek, Orlando Jones, Frankie Faison, Willem Dafoe and Jane Krakowski.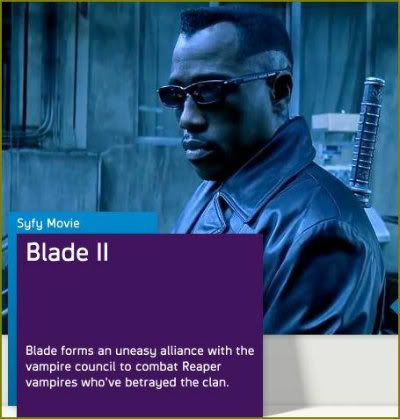 04:30 PM
Blade II
A vampire slayer (
Wesley Snipes
) teams up with the undead to take down a band of mutant bloodsuckers.
Cast includes Wesley Snipes, Kris Kristofferson, Ron Perlman, Leonor Varela,
The Walking Dead's
Norman Reedus, Luke Goss and Tony Curran.
07:00 PM
Stake Land
After vampires overtake America, orphaned teen Martin (
Connor Paolo
) and survivalist Mister (
Nick Damici
) find themselves locked in a battle against a dangerous religious cult lead by the diabolical Jebedia Loven (
Michael Cerveris
). Later, Martin and Mister are joined by a group of weary travelers trying to find a sanctuary known as New Eden.
Cast includes Nick Damici, Connor Paolo, Sean Nelson,
Fringe's
Michael Cerveris, Bonnie Dennison, Chance Kelly, Tim House, Larry Fessenden and Kelly McGillis.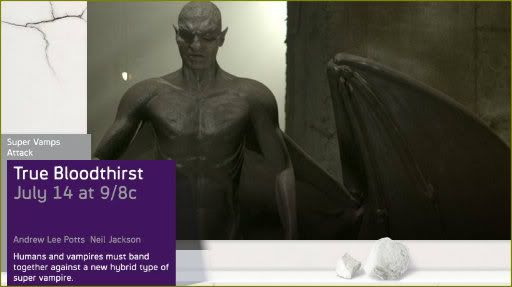 09:00 PM
True Bloodthirst
Humans and vampires are unnatural allies. Syfy Original Movie True Bloodthirst premiers Saturday July 14 at 9/8c.
Bucharest, Romania
. The not-too-distant future, but an entirely different city. The human population is dwindling. The vampire population, meanwhile, is exploding. Having emerged from the shadows a decade earlier, vampires now walk openly amongst the human population, as a precarious peace exists between the two. A peace made possible by the introduction of a synthetic blood substitute, dispensed by the Romanian government, making traditional vampire feeding, and preying on humans, no longer necessary. But even so, it's not a peace that everyone is entirely comfortable with...
Cast includes Ben Lambert,
Primeval's
Andrew Lee Potts, Neil Jackson, Claudia Bassols, Roark Critchlow, George Zlatarev, Heida Reed, Ewan Bailey and Iliana Lazarova.
11:00 PM
Stake Land
01:00 AM
True Bloodthirst
03:00 AM
30 Days Of Night: Dark Days