Source: Syfy
schedulebot
[
NOTE: Syfy schedule subject to change(s)
]
SCIFI MOVIE MARATHON - SYFY: SCHEDULE SUNDAY, JULY 15, 2012
10:00 AM
Pandorum
After awakening from hypersleep with no memory of their mission, astronauts Lt. Payton (
Dennis Quaid
) and Cpl. Bower (
Ben Foster
) discover that the 60,000 passengers aboard their vast spacecraft have vanished without a trace. Little do they realize that they will soon be fighting for the survival of the entire human race.
Cast includes Dennis Quaid, Ben Foster, Cam Gigandet, Antje Traue, Cung Le, Eddie Rouse and
The Walking Dead's
Norman Reedus.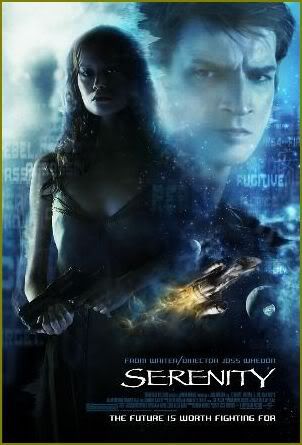 12:30 PM
Serenity
The renegade crew of a space freighter hides a fugitive from a totalitarian regime in writer-director
Joss Whedon's
exciting follow-up to his cult TV series "
Firefly
."
Cast includes
Castle's
Nathan Fillion,
Suits'
Gina Torres,
Suburgatory's
Alan Tudyk,
Homeland's
Morena Baccarin,
Chuck's
Adam Baldwin,
L.A. Complex's
Jewel Staite, Sean Maher, Summer Glau, Ron Glass, Chiwetel Ejiofor and David Krumholtz.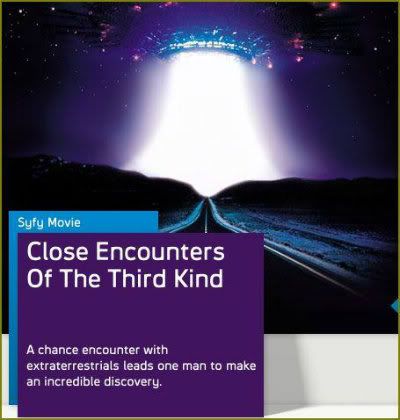 03:00 PM
Close Encounters Of The Third Kind
After an encounter with UFOs, a line worker feels undeniably drawn to an isolated area in the wilderness where something spectacular is about to happen.
Cast includes Richard Dreyfuss, François Truffaut, Teri Garr, Melinda Dillon, Bob Balaban, J. Patrick McNamara, Warren J. Kemmerling, Roberts Blossom, Philip Dodds, Cary Guffey, Lance Henriksen and Josef Sommer.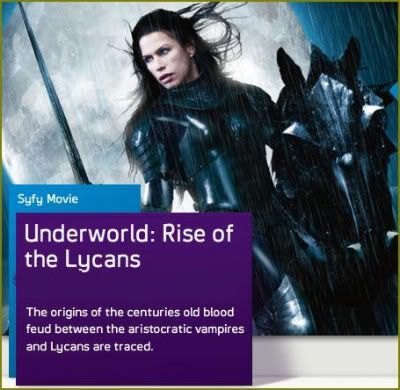 06:00 PM
Underworld: Rise Of The Lycans
A prequel to the first two Underworld films, this fantasy explains the origins of the feud between the Vampires and the Lycans. Aided by his secret love, Sonja (
Rhona Mitra
), courageous Lucian (
Michael Sheen
) leads the Lycans in battle against brutal Vampire king Viktor (
Bill Nighy
). Determined to break the king's enslavement of his people, Lucian faces off against the Death Dealer army in a bid for Lycan independence.
Cast includes Michael Sheen, Bill Nighy, Rhona Mitra, Steven Mackintosh, Kevin Grevioux, David Aston, Geraldine Brophy and Leighton Cardno.
08:00 PM
Pirates Of The Caribbean: At World's End
Third entry in the adventure saga sends a resurrected buccaneer (
Geoffrey Rush
), a feisty heroine (
Keira Knightley
) and her swashbuckling swain (
Orlando Bloom
) on a voyage to rescue Capt. Jack Sparrow (
Johnny Depp
) from Davy Jones' locker.
Cast includes Johnny Depp, Geoffrey Rush, Orlando Bloom, Keira Knightley, Jack Davenport, Bill Nighy, Jonathan Pryce and
Once Upon A Time's
Lee Arenberg.
11:30 PM
Underworld: Rise Of The Lycans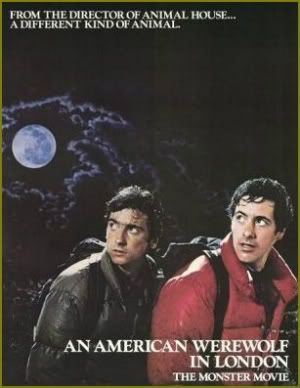 01:30 AM
An American Werewolf In London
John Landis's
variation on the venerable horror theme. Two American tourists in Britain are attacked by a werewolf that none of the locals will admit exists.
Cast includes David Naughton, Jenny Agutter, Griffin Dunne, John Woodvine, Anne-Marie Davies, Frank Oz, Don McKillop, Paul Kember, Michele Brisigotti and Brenda Cavendish.
03:30 AM
Skinwalkers
A pack of biker werewolves try to get their claws on a half-boy, half-wolf 12-year-old (
Matthew Knight
) who is destined to end their lineage when he turns 13.
Cast includes Jason Behr, Elias Koteas, Rhona Mitra, Natassia Malthe and Kim Coates.