Source: Syfy
schedulebot
[
NOTE: Syfy schedule subject to change(s)
]
MEGA CRITTERS MOVIE MARATHON - SYFY: SCHEDULE THURSDAY, JULY 5, 2012
08:00 AM
Mega Shark Vs. Crocosaurus
A gigantic, immensely powerful shark does battle with a fierce primordial crocodile from Africa.
Cast includes Gary Stretch, Jaleel White, Sarah Lieving,
Star Trek: Voyager
/
Stargate Atlantis'
Robert Picardo, Gerald Webb, Dylan Vox, Hannah Cowley and Steve Mason.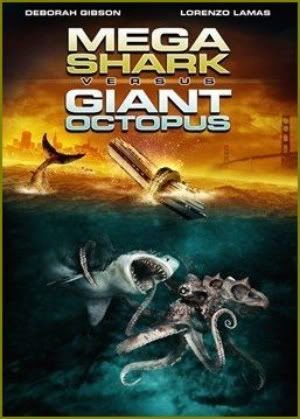 10:00 AM
Mega Shark Vs Giant Octopus
Two colossal prehistoric monsters terrorize the California coast while battling for supremacy of the sea in this salt-water creature feature starring Lorenzo Lamas and Deborah Gibson.
Cast includes Deborah Gibson, Lorenzo Lamas, Vic Chao, Jonathan Nation, Mark Hengst, Michael Teh and Chris Haley.
12:00 PM
Mega Python Vs. Gatoroid
Monstrous reptiles clash in the Florida Everglades when giant pythons threaten the alligator population.
Cast includes Deborah Gibson, Tiffany, A Martinez, Kathryn Joosten, Kevin M. Horton and Carey Van Dyke.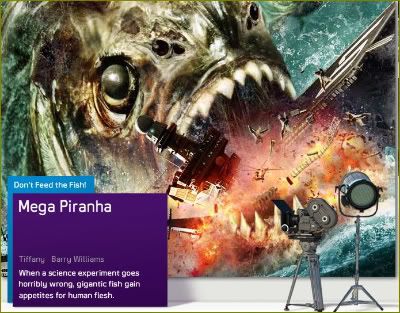 02:00 PM
Mega Piranha
Giant mutant piranha escape from the Amazon and head for Florida.
Cast includes Paul Logan, Tiffany, Barry Williams, David Labiosa, Jude Gerard Prest and Jesse Daly.
04:00 PM
Piranhaconda
Part Snake! Part Fish! All Killer!
A piranha-anaconda hybrid terrorizes a movie crew after a scientist steals an egg from the creature's nest.
Cast includes Michael Madsen, Rachel Hunter, Shandi Finnessey, Teri Ivens, Rib Hillis, Chris De Christopher, Kurt Yaeger, Michael Swan and Christina DeRosa.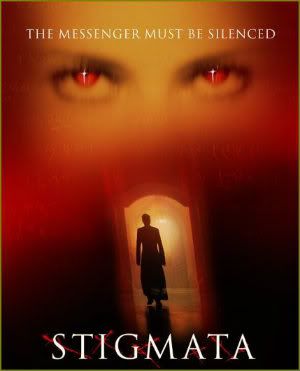 06:00 PM
Stigmata
A Vatican priest (
Gabriel Byrne
) is sent to Pittsburgh to investigate a not-so-religious hairstylist (
Patricia Arquette
) who exhibits signs of the stigmata, marks resembling the wounds that were inflicted on Jesus at his Crucifixion.
Cast includes Patricia Arquette, Gabriel Byrne, Jonathan Pryce, Nia Long, Thomas Kopache, Rade Serbedzija, Enrico Colantoni, Dick Latessa, Portia de Rossi and Patrick Muldoon.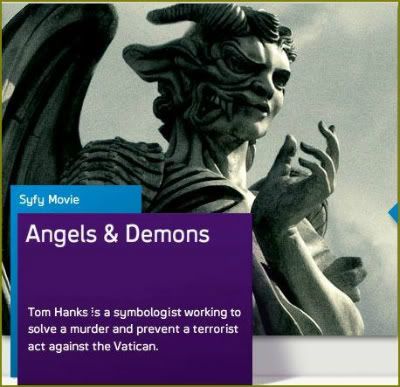 08:00 PM
Angels & Demons
Tom Hanks
returns to the role of Robert Langdon in this sequel to "The Da Vinci Code."
Langdon uncovers the existence of the Illuminati, a secret sect thought to be defunct that plans to destroy the Catholic Church. Langdon joins forces with an Italian scientist (
Ayelet Zurer
) on a globe-trotting quest to stop the plan before it can come to fruition. Directed by
Ron Howard
.
Cast includes Tom Hanks, Ewan McGregor, Ayelet Zurer, Stellan Skarsgård, Pierfrancesco Favino, Nikolaj Lie Kaas and Armin Mueller-Stahl.
11:00 PM
Stigmata
01:00 AM
Piranhaconda
03:00 AM
Mega Python Vs. Gatoroid