Source: Syfy
schedulebot
[
NOTE: Syfy schedule subject to change(s)
]
AQUATIC CRITTERS MOVIE MARATHON - SYFY: SCHEDULE TUESDAY, JULY 3, 2012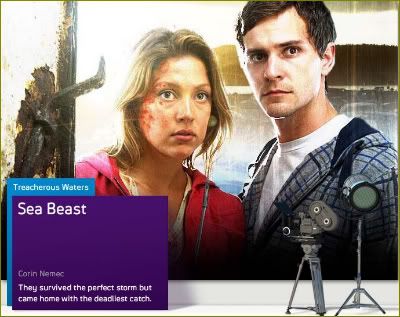 08:00 AM
Sea Beast
A small village unites in self-defense when a creature from the sea invades their fishing waters and threatens to destroy the town.
Cast includes
Stargate SG-1's
Corin Nemec, Miriam McDonald, Daniel Wisler, Camille Sullivan, Gwynyth Walsh, Brent Stait and Gary Hudson.
10:00 AM
Dinoshark
A dinosaur-shark hybrid terrorizes a resort in Mexico, and it's up to a young fishing boat captain to stop it.
Cast include
Haven's
Eric Balfour, Iva Hasperger, Aarón Díaz, Humberto Busto and Richard Miller.
Watch a death scene from the Syfy Original Movie "Dinoshark."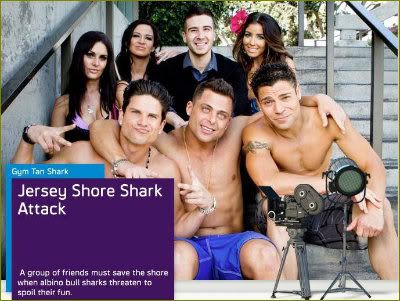 12:00 PM
Jersey Shore Shark Attack
Sharks menace the Jersey shore on July 4th weekend, and it's up to the locals to stop them. While everyone else runs scared, vacationing Jerseyites fend off shark attacks on the shore. Cast includes Jeremy Luc, Melissa Molinaro, Jack Scalia, Paul Sorvino, William Atherton, Tony Sirico, Joey Russo, Daniel Booko, Alex Mauriello, Audi Resendez, Grant Harvey, Dylan Vox, Joey Fatone, Ben Giroux, Al Sapienza and Gabrielle Christian.
02:00 PM
Super Shark
A massive, primordial shark goes on a bloody killing spree after being set free during an offshore drilling mishap in this saltwater shocker starring
John Schneider
and
Jimmie "JJ" Walker
. As the tide runs red with blood, marine biologist Kat Carmichael (
Sarah Lieving
) finds her efforts to destroy the giant killing machine repeatedly foiled by shameless corporate shill Roger Wade (
Schneider
) and his scheming sidekick Stewart (
Jerry Lacy
). But when the beast begins using its flippers to walk on land, Kat recruits fearless Skipper Chuck (
Tim Abell
) and wisecracking DJ Dynomite Stevens (
Walker
) to blast it back into the ocean. Cast includes John Schneider, Sarah Lieving, Tim Abell, Gerald Webb, Jimmie Walker, Jerry Lacy, Ted Monte, Catherine Annette, Trish Cook, Rick Cramer, John L. Curtis, J Ferguson, Michael Gaglio, Rebecca Grant, Blake Griffin, Carolyn Martin, Rya Meyers, Randy Mulkey, Jeff Murray and David Novak.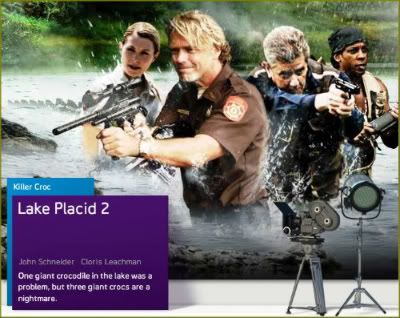 04:00 PM
Lake Placid 2
The quirky residents of Lake Placid once again become gator bait in this horror sequel. Eight years after the town was devastated by a giant crocodile, the creature's numerous offspring return for some human snacks of their own. It's up to the local sheriff (John Schneider), his ex-girlfriend, an EPA agent and a professional croc hunter to stop the bloodthirsty beasts before they kill again. Guest includes John Schneider, Sarah Lafleur, Sam McMurray, Chad Michael, Alicia Ziegler, Joe Holt, Ian Reed Kesler, Justin Urich and Cloris Leachman.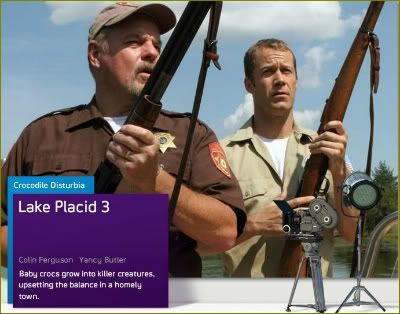 06:00 PM
Lake Placid 3
A game warden (
Colin Ferguson
) moves into his aunt's lakeside cabin with his wife and young son, and the little boy feeds the resident baby crocodiles until they grow up into monstrous predators that become a menace to the family. Cast includes
Eureka's
Colin Ferguson, Yancy Butler, Kirsty Mitchell, Kacey Barnfield, Jordan Grehs, Michael Ironside, Angelica Penn and Bianca Ilich. [
Break for Wednesday Programming
.] 01:00 AM
Lake Placid 2
03:00 AM
Lake Placid 3