STARGATE TV SCHEDULE WEEK APRIL 30, 2012:
[NOTE: High Definition channels not listed on this schedule. Please confirm with your local listings for correct times.]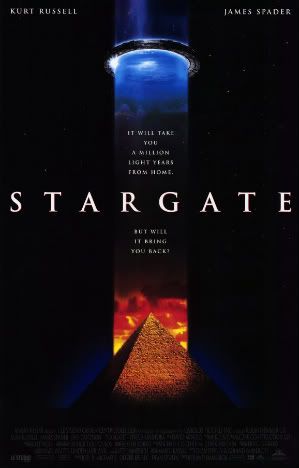 STARGATE
The Original Movie (1994)
Nerdy Egyptologist Daniel Jackson (
James Spader
) is called upon to assist in a classified Air Force project near the great pyramid of Giza. The Feds suspect that a huge circular structure discovered near the pyramid is a "Stargate"--a teleportation device that links the earth with another site far off in the universe. Jackson deciphers the hieroglyphic code on the structure and, accompanied by a military team led by Colonel Jack O'Neil (
Kurt Russell
), embarks on a perilous journey to the unknown. They emerge into a bizarre desert civilization ruled by a Machiavellian tyrant (
Jaye Davidson
) who claims to be the sun god Ra.
Cast includes Kurt Russell, James Spader, Alexis Cruz, Viveca Lindfors, Mili Avital, John Diehl, Jaye Davidson, Leon Rippy, Djimon Hounsou, Erick Avari and French Stewart.
Wed. May 2 9:15 AM
AMC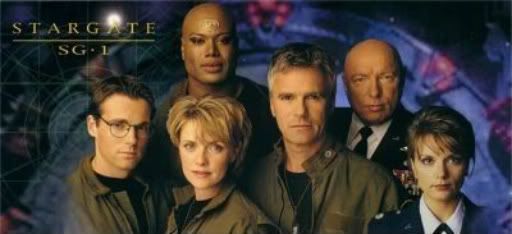 STARGATE SG-1
Stargate SG-1 season two cast includes Richard Dean Anderson, Amanda Tapping, Christopher Judge, Michael Shanks and Don S. Davis.
SYFY
Tue. May 1 2:00 AM
Bane
Teal'c (
Christopher Judge
) undergoes a metamorphosis after being stung by a giant insect.
Guest stars include Tom McBeath, Scott Hylands, Colleen Rennison, Alonso Oyarzun, Richard Leacock and Laara Sadiq.
Wed. May 2 2:01 AM
Spirits
O'Neill (
Richard Dean Anderson
) and the SG-1 team encounter mysterious spirits while trying to mine a planet.
Guest stars include Rodney A. Grant, Alex Zahara, Christina Cox, Kevin McNulty, Roger R. Cross, Chief Leonard George, Byron Chief-Moon, Jason Calder and Laara Sadiq.
Thur. May 3 2:00 AM
Touchstone
O'Neill (
Richard Dean Anderson
) and the team stumble upon a secret government plot while trying to return a stolen weather device to a planet.
Guest stars include Tom McBeath, Matthew Walker, Jerry Wasserman, Tiffany Lyndall-Knight, Eric Breker and Conan Graham.
Sat. May 5 2:00 AM
The Fifth Race
While on a mission to decode ancient inscriptions, O'Neill (
Richard Dean Anderson
) has his mind overtaken by a superior knowledge.
Guest stars include Tobias Mehler, Dan Shea and David Adams.

STARGATE ATLANTIS
Cast includes Joe Flanigan, David Hewlett, Rainbow Sun Francks, Rachell Luttrell, Torri Higginson, Paul McGillion, Jason Momoa, David Nykl, Robert Picardo and Amanda Tapping.
STARGATE ATLANTIS - SYFY: SEASON FIVE MINI-THON MONDAY, APRIL 30, 2012 - CLICK HERE FOR SCHEDULE
UHD
Mon. Apr. 30 5:00 PM
Vegas
Mon. Apr. 30 8:00 PM
Vegas
Detective John Sheppard (
Joe Flanigan
) investigates murders in Las Vegas linked to an unusual man with superhuman abilities.
Steve Schirripa
and
Frank Vincent
of "
The Sopranos
" fame guest star.
Guest stars include Neil Jackson, David Nykl, Christopher Heyerdahl,
Stargate SG-1's
Gary Jones, Frank Vincent, Steve Schirripa, Jody Thompson,
Stargate Universe's
Mark Burgess, Paul Jarrett, Charles Cohen, Joel Goldsmith, Roy Winston and Todd Brunson.
STARGATE UNIVERSE
Cast includes Robert Carlyle, Louis Ferreira, Brian J. Smith, Elyse Levesque, David Blue, Alaina Huffman, Jamil Walker Smith, Peter Kelamis, Patrick Gilmore, Julia Benson, Jennifer Spence, Ming-Na and Lou Diamond Phillips.
SYFY
Fri. May 4 5:30 AM
Pain
When the crew suffers from vivid hallucinations that tap into their personal fears, Tamara Johansen (
Alaina Huffman
) isolates the affected from the rest and then tries to seek out the cause of the affliction as it spreads and becomes life-threatening.
Guest stars include Sean Blakemore, Christopher McDonald, Haig Sutherland, Jeffrey Bowyer-Chapman, Darcy Laurie, Ryan Booth, Leanne Adachi and Gordon Grice.
Sat. May 5 5:00 AM
Subversion
Col. Telford (
Lou Diamond Phillips
) is suspected of espionage after Dr. Rush (
Robert Carlyle
) has a disturbing dream about a covert meeting with the Lucian Alliance. Col. Young (
Louis Ferreira
) investigates the matter with the help of Gen. Jack O'Neill (
Richard Dean Anderson
) and Dr. Daniel Jackson (
Michael Shanks
).
Guest stars include
Stargate SG-1's
Richard Dean Anderson and Michael Shanks, Rhona Mitra, Mike Dopud, Lou Diamond Phillips, Haig Sutherland, Ian Butcher, John Murphy, Trevor Carroll and Ryan Booth.
SYNDICATED
Weekend
May 5/6 in Syndication (check your local listings for channel, date and time) -
Epilogue
Destiny reaches an abandoned modern civilization on a planet in the throes of seismic destruction. While the crew retrieves valuable data archives stored underground, Rush (
Robert Carlyle
) discovers a possible way to help the planet's survivors.
Guest stars include August Schellenberg, Mike Dopud, Reilly Dolman, Katie Findlay, Leanne Adachi, Shaughnessy Redden, Lane Edwards and Shauna Johannesen.