Source: Syfy
schedulebot
STARGATE ATLANTIS - SYFY: SEASON FIVE MINI-THON MONDAY, APRIL 30, 2012
Stargate Atlantis season five cast included Joe Flanigan, David Hewlett, Rachel Luttrell, Jason Mamoa, Jewel Staite and Robert Picardo.
08:00 AM
Infection
A distress call from a hive ship over Atlantis leads the team to discover a Wraith crew in stasis, with all hands stricken with a disease caused in part by Dr. Keller's (
Jewel Staite
) gene therapy.
Guest stars include
Sanctuary's
Christopher Heyerdahl,
Eureka's
Kavan Smith, Sharon Taylor and Christopher Pearce.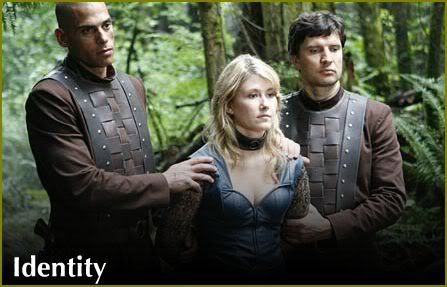 09:00 AM
Identity
Dr. Keller (
Jewel Staite
) suffers the ultimate form of identity theft when her strange behavior leads the team to discover that her consciousness has been switched with that of a criminal who is facing capital punishment.
Guest stars include Dawn Olivieri, David Nykl, Paul McGillion, Ron Selmour, Todd Thomson, Jonathan Holmes, Linda Ko and Rick Wong.
10:00 AM
Vegas
Detective John Sheppard (
Joe Flanigan
) investigates murders in Las Vegas linked to an unusual man with superhuman abilities.
Steve Schirripa
and
Frank Vincent
of "
The Sopranos
" fame guest star.
Guest stars include Neil Jackson, David Nykl, Christopher Heyerdahl,
Stargate SG-1's
Gary Jones, Frank Vincent, Steve Schirripa, Jody Thompson,
Stargate Universe's
Mark Burgess, Paul Jarrett, Charles Cohen, Joel Goldsmith, Roy Winston and Todd Brunson.
11:00 AM
Enemy At The Gate - Series Finale!
Todd (
Christopher Heyerdahl
) warns Atlantis about a sophisticated hive ship and encourages the team to attack the vessel before it can pose a threat to Earth in the series finale.
Guest stars include Christopher Heyerdahl, Mitch Pileggi, David Nykl, Kavan Smith, Michael Beach, Martin Christopher, Gary Jones, Amanda Tapping, Paul McGillion,
Falling Skies'
Colin Cunningham, Sharon Taylor, Ben Cotton, Tyler McClendon and Chuck Campbell.