Source:
USA Network
You Tube channel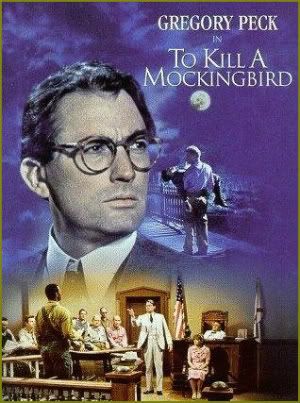 TO KILL A MOCKINGBIRD - USA NETWORK VIDEO: SPECIAL PRESENTATION PROMO - AIRS SATURDAY, APRIL 7, 2012 AT 8/7C
Catch the 50th Anniversary presentation of the classic film, "
To Kill A Mockingbird
," with a special introduction from
President Obama
this Saturday 4/7 at 8/7c, only on USA Network.
For additional information, please visit
TV Worth Watching's Flick Picks
.
Based on
Harper Lee's
semiautobiographical, Pulitzer Prize-winning novel of 1960,
TO KILL A MOCKINGBIRD
is a hauntingly nostalgic portrayal of childhood mischief set in a racially divided Alabama town in the 1930s. If the film's tone sometimes seems overly righteous, it's offset by a poetic lyricism that is difficult to resist embracing.
Cast includes Gregory Peck, Mary Badham, Phillip Alford, John Megna, Frank Overton, Rosemary Murphy, Ruth White, Brock Peters, Estelle Evans, Paul Fix, James Anderson, William Windom and Robert Duvall - his first screen role.
Source:
PBS
Harper Lee: Hey, Boo
illuminates the phenomenon behind
Lee's
first and only novel,
To Kill a Mockingbird
, and the 1962 film version, celebrating its 50th anniversary this year. Offering an unprecedented look into
Lee's
mysterious life, Emmy®-winning filmmaker
Mary McDonagh Murphy
(author of
Scout, Atticus & Boo: A Celebration of To Kill a Mockingbird
) interviews
Lee's
friends and family, including her centenarian sister
Alice
, who share intimate recollections, anecdotes and biographical details for the first time: her rise from small-town Alabama girl to famous author, her tumultuous friendship with
Truman Capote
, and the origin of her most memorable characters: Atticus Finch, his daughter Scout, her friend Dill, and Boo Radley. The documentary also explores the context and history of the novel's Deep South setting and the social changes it inspired after publication and through the film starring
Gregory Peck
.
Tom Brokaw, Rosanne Cash, Anna Quindlen, Scott Turow, Oprah Winfrey
, and others reflect on the novel's power, influence, popularity, and the ways it has shaped their lives.
Lee
gave her last interview in 1964 and receded from the limelight.
Watch Harper Lee: Hey, Boo on PBS. See more from American Masters.