Source: Syfy
schedulebot
ACTION ADVENTURE MOVIE MARATHON - SYFY: SCHEDULE SUNDAY, APRIL 15, 2012
09:30 AM
Casino Royale
In his first mission, James Bond (
Daniel Craig
) must stop Le Chiffre (
Mads Mikkelsen
), a banker to the world's terrorist organizations, from winning a high-stakes poker tournament at Casino Royale in Montenegro.
Cast includes Daniel Craig, Eva Green, Mads Mikkelsen, Judi Dench, Jeffrey Wright, Giancarlo Giannini and Caterina Murino.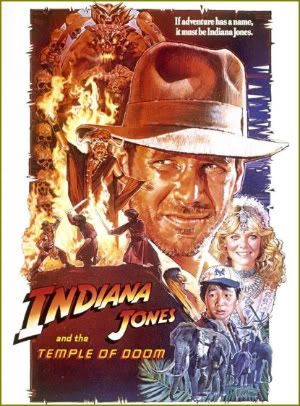 12:30 PM
Indiana Jones And The Temple Of Doom
Harrison Ford
gets help from a feisty heroine (
Kate Capshaw
) and a sawed-off sidekick (
Ke Huy Quan
) in this "
Raiders
" prequel featuring a sacred jewel, a bloodthirsty cult, human sacrifices, runaway mining cars, a chamber of scorpions and a perilous bridge.
Cast includes Harrison Ford, Kate Capshaw, Jonathan Ke Quan, Amrish Puri, Roshan Seth, Philip Stone, Roy Chiao and David Yip.
03:00 PM
Indiana Jones And The Last Crusade
Fedora and whip at the ready, Indiana Jones (
Harrison Ford
) sets off on his third cinematic outing accompanied by none other than his father, Henry (
Sean Connery
), to explore the cradle of civilization on a perilous hunt for the Holy Grail. The Nazis are also after the powerful relic, but no one is what they seem in this rousing quest for everlasting life.
Cast includes Harrison Ford, Sean Connery, Denholm Elliott, Alison Doody, John Rhys-Davies, Julian Glover, River Phoenix, Michael Byrne, Kevork Malikyan, Robert Eddison, Richard Young and Alexei Sayle.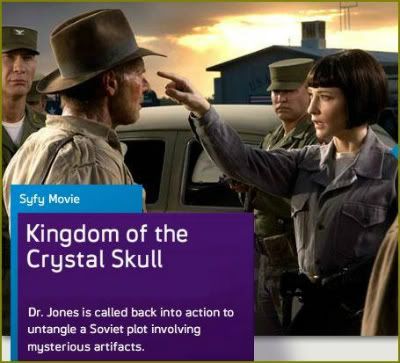 06:00 PM
Indiana Jones And The Kingdom Of The Crystal Skull
Indiana Jones (
Harrison Ford
) gets a cold war-era update in this fan-friendly pastiche of 1950s preoccupations and paranoia. His mission: rescuing an old friend who has vanished after discovering a strange artifact that could hold the key to world domination. Old friends, including hard-drinking ex-love Marion Ravenwood
(Karen Allen
), new enemies like Russian she-wolf Irina Spalko (
Cate Blanchett
) and spectacular action sequences abound.
Cast includes Harrison Ford, Cate Blanchett, Karen Allen, Shia LaBeouf, Ray Winstone, John Hurt, Jim Broadbent and Alan Dale.
09:00 PM
War Of The Worlds (2005)
As Earth is invaded by alien tripod fighting machines, one family fights for survival. Based on the novel by
H.G. Wells
.
Cast includes Tom Cruise, Dakota Fanning, Miranda Otto, Justin Chatwin, Tim Robbins and Rick Gonzalez.
11:30 PM
Signs
Downbeat family drama and supernatural menace converge in writer-director
M. Night Shyamalan's
low-voltage thriller. Recently widowed Episcopalian minister Graham Hess (
Mel Gibson
), who experienced a spiritual crisis when his wife died in a freak accident, must weather a dark night of the soul with only common sense to guide him. Without his faith, Graham is hard put to cope with the increasingly ominous phenomena that follow the mysterious appearance of giant crop circles in the corn field behind the farmhouse he shares with his youngsters, Morgan (
Rory Culkin
) and Bo (
Abigail Breslin
), and his younger brother, Merrill (
Joaquin Phoenix
).
Cast includes Mel Gibson, Joaquin Phoenix, Rory Culkin, Abigail Breslin,
Awake's
Cherry Jones, M. Night Shyamalan, Patricia Kalember, Ted Sutton, Merritt Wever, Lanny Flaherty and Marion McCorry.
02:00 AM
Star Runners
Space smugglers transport cargo---a woman with special powers---that puts them at odds with an evil government. Matters get worse when the trio crashes onto a planet inhabited by carnivorous insect creatures.
Cast includes
Star Trek Enterprise's
Connor Trinneer, James Kyson-Lee, Toni Trucks and Aja Evans.