Source:
Syfy
You Tube channel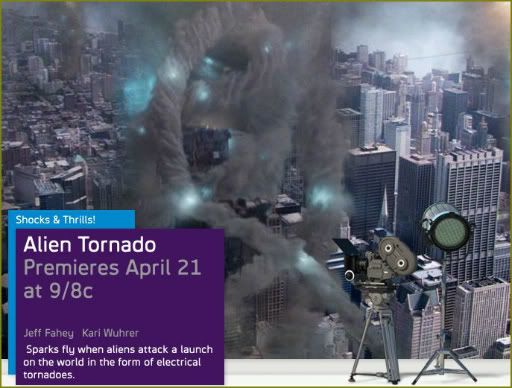 ALIEN TORNADO - SYFY VIDEO: MOVIE TRAILER - PREMIERES SATURDAY, APRIL 21, 2012 AT 9/8C
Sparks fly when aliens attack a launch on the world in the form of electrical tornadoes. Catch the premiere of Alien Tornado April 21 at 9|8c on Syfy!
Aliens attack Earth with deadly electrical tornadoes, and it's up to a farmer, his smart high-school daughter and a tornado blogger to thwart the horrific invasion.
Cast includes Kari Wuhrer, Jeff Fahey, Terry Kiser, David Jensen, Stacey Asaro, Willard E. Pugh, Glen Warner, Mike Kimmel, Emily D. Haley, Daniel Ponsky and Chip Haw.