Source:
SciFi and TV Talk
[follow link for complete Q & A]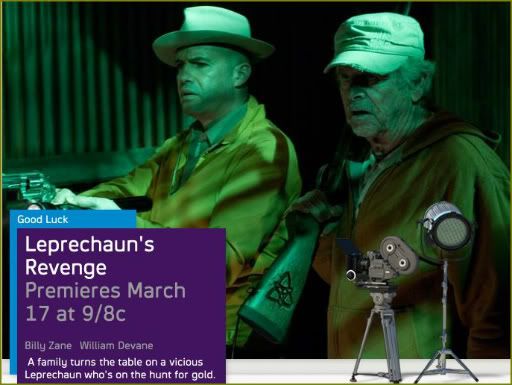 SCIFI AND TV TALK: Q & A with William Devane (Syfy's Leprechaun's Revenge)
by
Steve Eramo
03/14/2012
For over 45 years, veteran stage and screen performer
William Devane
has captured audiences' attention with a variety of memorable roles, not the least of which is that of U.S President
John F. Kennedy
in the 1974 TV film
The Cuban Missile Crisis
. For 10 years he played the villainous Greg Sumner in the nighttime soap
Knots Landing
as well as guest-starred on such other hit series as
Lois and Clark: The New Adventures of Superman
,
Stargate SG-1
,
24
and
The West Wing
. Among his big screen credits are
McCabe & Mrs. Miller
,
Family Plot
(directed by the legendary
Alfred Hitchcock
),
Yanks
,
Testament
and
Space Cowboys
.
This St. Patrick's Day,
Devane
stars opposite
Billy Zane
(
Titanic
,
The Phantom
) and
Courtney Halverson
(MTV's
Death Valley
) in the Syfy Saturday Original Movie
Leprechaun's Revenge
, airing Saturday, March 17th @ 9:00 p.m. EST/PST. In it, an evil leprechaun is out for revenge against the Irish immigrants who imprisoned him, and it is up to the local sheriff (
Zane
) and his father (
Devane
) to stop it.
Earlier this week,
Devane
spoke on the phone with me as well as other journalists about working on the movie and his career in general. An edited version of that Q & A follows. Enjoy!
...
Q: You mentioned the director of the movie, Drew Daywalt; could you expand a little bit on working with him on the project and what you enjoyed most about that experience?
William Devane
:
Well, for a guy who hadn't done a lot of big-time stuff like this – this is his first movie – he was extremely professional and mature, and that's always a pleasure when you're working with younger guys. Usually you run into a lot of arrogance in a situation like that, but not in this case. Drew was working under a lot of pressure trying to make a picture like this with the amount of time and money that we had. It was sometimes very, very stressful, but he hung in there very well and we had a lot of fun. Every time we tried to get a little tongue and cheek with the material, everybody was happier. It was a little difficult to take it too seriously. So we took that kind of tongue and cheek approach to the material and I think it worked out quite well
...'
...
Q: Syfy has a knack for making these types of films that almost feel like throwbacks to old drive-in movies of another era and that were kind of cheap, cheesy and schlocky, but also fun, creepy and sometimes genuinely scary. Did this movie put you in the mind of that kind of film? Did it feel like you were making that kind of a movie?
William Devane
: "
We approached it exactly as you've just described. We knew we didn't have a lot of dough or a lot of time, so we just had to go, go, go. We wanted to keep it light and "schlocky" is a great word. It should be scary too, and I think it accomplished all of those things. I think it's probably a lot more fun than some of the movies you see today and that cost millions and millions to make
..."