Source: Syfy
schedulebot
SCIFI MOVIE MARATHON - SYFY: SCHEDULE MONDAY, MARCH 26, 2012
09:00 AM
Star Runners
Space smugglers transport cargo---a woman with special powers---that puts them at odds with an evil government. Matters get worse when the trio crashes onto a planet inhabited by carnivorous insect creatures.
Cast includes
Star Trek Enterprise's
Connor Trinneer, James Kyson-Lee, Toni Trucks and Aja Evans.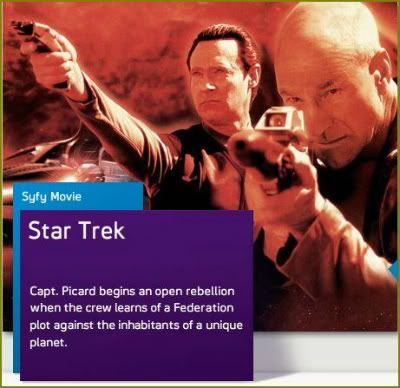 11:00 AM
Star Trek: Insurrection
The ninth film in the series finds Capt. Picard (
Patrick Stewart
) and his crew questioning orders from Starfleet regarding a planet with mystical powers. Ambitious but sluggish. Directed by
Jonathan Frakes
, who plays Cdr. Riker.
Cast includes Patrick Stewart, Jonathan Frakes, Brent Spiner, LeVar Burton, Michael Dorn, Gates McFadden, Marina Sirtis, F. Murray Abraham, Donna Murphy, Anthony Zerbe, Gregg Henry, Daniel Hugh Kelly and Michael Welch.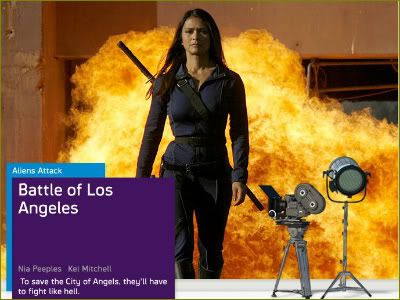 01:00 PM
Battle Of Los Angeles
Alien spacecraft attack Los Angeles in the first wave of an invasion, and humanity's survival depends upon two soldiers who must breach the mother ship and destroy it from within.
Cast includes Nia Peeples, Kel Mitchell, Dylan Vox, Theresa June Tao, Gerald Webb, Edward DeRuiter, Darin Cooper, Robert Pike Daniel and Tim Abell.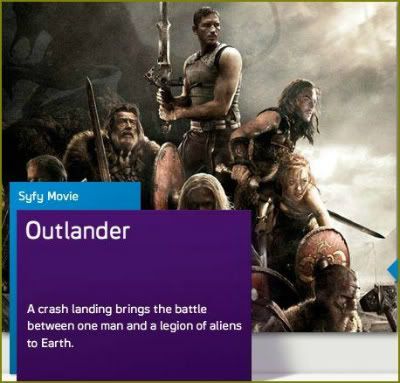 03:00 PM
Outlander
A warrior from space crash-lands into ancient Norway and helps Viking tribes battle a bloodthirsty monster.
Jim Caviezel
stars in this sc-fi adventure fantasy.
Cast includes
Person of Interests'
Jim Caviezel, Sophia Myles, Jack Huston, John Hurt, Cliff Saunders, Patrick Stevenson, Aidan Devine and Ron Perlman.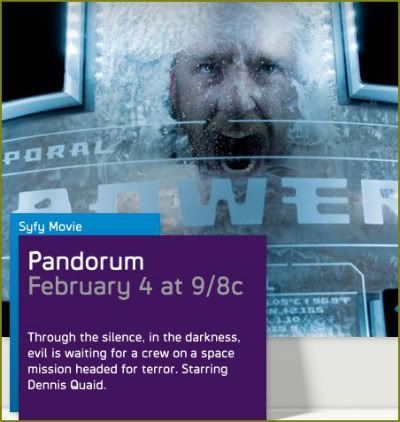 05:30 PM
Pandorum
After awakening from hypersleep with no memory of their mission, astronauts Lt. Payton (
Dennis Quaid
) and Cpl. Bower (
Ben Foster
) discover that the 60,000 passengers aboard their vast spacecraft have vanished without a trace. Little do they realize that they will soon be fighting for the survival of the entire human race.
Cast includes Dennis Quaid, Ben Foster, Cam Gigandet, Antje Traue, Cung Le, Eddie Rouse and
The Walking Dead's
Norman Reedus.