Source: Encore Western Channel
schedulebot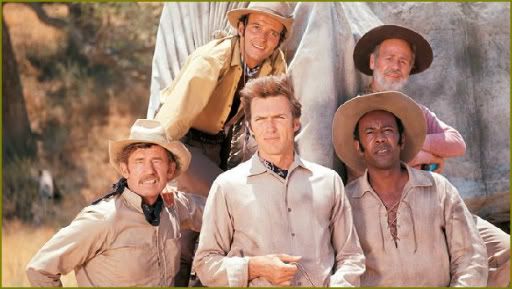 Steve Raines, Clint Eastwood, Raymond St. Jacques, James Murdock and Paul Brinegar
RAWHIDE - ENCORE WESTERN CHANNEL: SCHEDULE WEEK OF MARCH 12, 2012
Cast includes Eric Fleming, Clint Eastwood, Paul Brinegar, Steve Raines, James Murdock, Rocky Shahan, Robert Cabal, Sheb Wooley, Charles H. Gray and William R. Thompkins.
Trail boss Gil Favor (
Eric Fleming
) is in charge of a continuous cattle drive along with his right hand, Rowdy Yates (
Clint Eastwood
). The crew runs into various characters and adventures along the way.
Mon. Mar. 12 5:00 PM
Incident of the Woman Trap
The drovers' night of fun with stranded mail-order brides takes a serious turn: one of the women is found near death.
Guest stars include Robert Gist, Maria Palmer, Alan Hale Jr., Karen Steele, Rayford Barnes, Carol Byron, Dorothy Dells, Ray Montgomery, Carol Kent, Gene Damian, Jim Galante and
Happy Days'
Marion Ross.
Tue. Mar. 13 5:00 PM
Incident of the Deserters' Patrol
Favor (
Eric Fleming
) and Nolan (
Sheb Wooley
) join the Army---temporarily---to negotiate a trade of six deserters for one Crow Indian chief.
Guest stars include Jock Gaynor, Don Megowan, Robert Dix, Russell Arms, Russ Conway, Dan Stafford, Conlan Carter, Edward Faulkner, Eugene Mazzola, Will J. White, Hal Needham, Barnaby Hale, Bob Duggan and Harry Carey Jr.
Wed. Mar. 14 5:00 PM
Incident Near Greedy Town
The bankrupt citizens of Dry Rock are offered $300,000 by Ada Randolph (
Mercedes McCambridge
) if they will clear the name of her dead son.
Guest stars include Mercedes McCambridge, Jim Davis, Diana Millay, J. Pat O'Malley, Kathleen Freeman, Ross Elliott, William Phipps, Dean Fredericks, Addison Richards, Roy Glenn, Fred Lerner, Chuck Hicks and Jim Galante.
Thur. Mar. 15 5:00 PM
Incident of Grandma's Money
An unsuspecting Rowdy (
Clint Eastwood
) befriends a larcenous old lady (
Josephine Hutchinson
) on the lam from her last caper.
Guest stars include Josephine Hutchinson, Frank Maxwell, Jonathan Hole, Frank Wilcox, Harry Ellerbe, Carol Ann Daniels, James Gavin, Everett Glass, Dan White, Norman Leavitt and Gayla Graves.
Fri. Mar. 16 5:00 PM
The Pitchwagon
Pitchman George Simpson (
Buddy Ebsen
) has no trouble keeping one step ahead of the law---but slipping away from a tribe of angry Indians is another problem.
Guest stars include
The Beverly Hillbillies'
Buddy Ebsen, Hugh Marlowe, Joan O'Brien, Jack Elam, Nick Pawl, Dan Grayam, Eddie Foster, Clancy Cooper, Ralph Reed and John Hart.
Sat. Mar. 17 11:00 AM
Incident of the Chubasco
A dangerous, wind-swept pass is the scene of a showdown between Favor (
Eric Fleming
) and a tyrannical rancher whose wife has taken refuge with the drovers.
Guest stars include George Brent, John Ericson, Noah Beery Jr., Olive Sturgess and Stacy Harris.