Source:
Syfy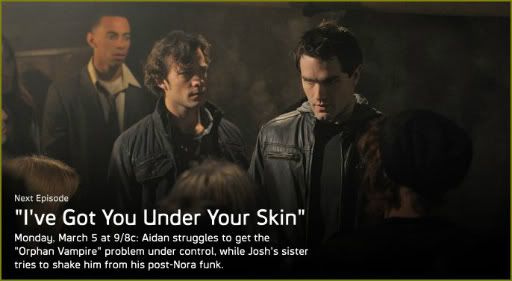 BEING HUMAN - SYFY VIDEO: 'I'VE GOT YOU UNDER YOUR SKIN' SNEAK PEEK - AIRS MONDAY, MARCH 5, 2012 AT 9/8C
Watch a sneak peek of the next all-new episode of Being Human, Monday at 9/8c.
Aidan (Sam Witwer) struggles to get the Orphan Vampire problem under control, while Josh's (Sam Huntington) sister tries to shake him from his post-Nora funk.
Sally (
Meaghan Rath
) receives an ultimatum from the Reaper (
Dusan Dukic
); Aidan and Suren (
Dichen Lachman
) devise a plan to eliminate Bishop's orphaned vampires; Josh copes with his breakup.
Guest stars include Natalie Brown, Alison Louder, Dusan Dukic, Dichen Lachman.