Source:
SFX Magazine
[follow link for complete interview]
SFX MAGAZINE: Being Human's Craig Roberts Interviewed
47-year-old-in-a-teenager's-body vampire Adam is back in next week's Being Human
by
Ian Berriman
February 28 2012
Next week's episode of
Being Human
(Sunday 4 March at 9.00pm on BBC Three and BBC HD) sees the return of Adam, the deceptively youthful vampire previously seen in an episode of season three ['
Adam's Family
'], as well as red-button spin-off
Becoming Human
. On-set during the filming of series four, SFX spoke to returning guest star
Craig Roberts
about returning to Honolulu Heights...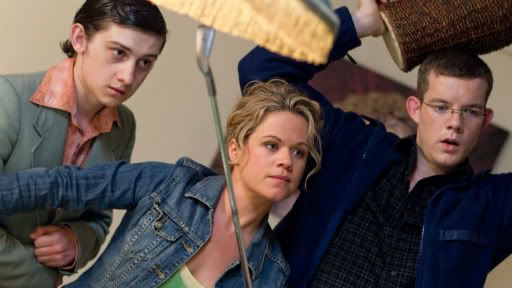 Craig Roberts, Sinead Keenan and Russell Tovey from Being Human's season three episode, 'Adam's Family.'
...
Q: I was surprised to hear you were returning to Being Human, because Submarine was a massive success. And it did seem like Adam's story had come to a full stop.
Craig Roberts
: "
Yeah I wasn't meant to come back, I don't think. Becoming Human had a pretty good response, it did pretty well. But they didn't think I'd come back. Then I bumped into Toby [Whithouse] at BAFTA and I was like, 'What are you doing? Have you written the episodes?' He said, 'Yeah' and I said, 'Am I coming back?', and he's like 'No', and I was like, 'You're a c**t!' But yeah, I was like, 'I wanna do it! Bring me back', so they brought me back, which I'm really happy about. Adam's just an excuse for me to f**k around, it seems...
"
Being Human season four airs Saturday at 9/8C on BBC America.