Source:
SFX Magazine
[follow link for complete interview]

MERLIN - SFX MAGAZINE: Making Merlin Mini-Movies Every Week
Exclusive interview: Merlin executive producers Johnny Capps and Julian Murphy
by
Dave Golder
November 26 2011
You may have noticed the change, or maybe it's just on the edge of your consciousness, but
Merlin
looks a little different this year. A little more cinematic. It's not just the more ambitious effects, or the fact that exterior shots of Camelot seems to have been given an extreme makeover. It's not just that the young cast suddenly seems to have matured a lot. It's not just that the addition of the Knights of the Round Table seems to have ushered in grander action sequences. Although all those things are true, to be sure. But also, with series four, for the first time the show is being shot on proper, feature movie quality 35 mill film.
This is not just a mere technical adjustment. It's a symbol of a show that's going from strength to strength. This time last year, we thought that series four was going to be only ten episodes and American TV was planning a lavish new show called
Camelot
. It felt like, perhaps,
Merlin
was preparing to wind down. But then the viewing figures for the 2010 season turned out to be the best yet, and improved throughout the run. Suddenly, series four was back up to 13 episodes, it was to be shot on 35 mill and a massive new green screen was created in the show's Cardiff studios to create even more grandiose effects.
Camelot
was cancelled. Series four started airing and is performing even better than series three, and the producers are now talking about a possible sixth series (if not more). The future looks bright in 35 mill.
Better than all that, the fourth series is turning out to be one of the best yet from what we've seen so far. And you can catch up with the first half when the
Merlin Series Four Part One DVD
is released on Monday [in the UK]...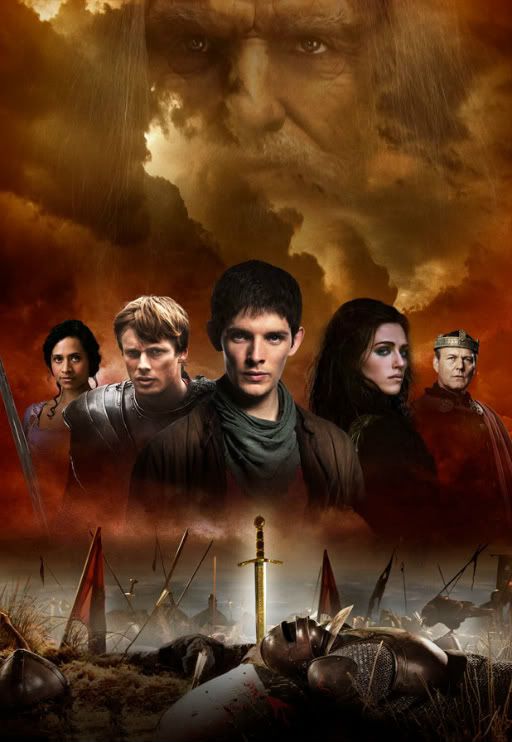 Both
Capps
and
Murphy
are keen to point out the darkening, more adult tone of the series was pretty much an organic development rather than a calculated change. It's reflected in a subtle change to the opening narration. Camelot's destiny now lies with a "young man" rather than a "boy".
"
Yes
," says Murphy, "
that's a response to what you're seeing on screen. Colin is a long way from the innocent character he was in series one. He's grown as a character. Merlin is very much a man now, and we need to reflect that
."
The series are also becoming more serialised, with more plots, as the years go by.
"
We have gradually increased that more over the four seasons and that was always really our plan
," agrees Murphy. "
I think when you bring in these big adventure franchises, you're quite conscious that you need the stories-of-the-week to dominate to begin with. Particularly when you're going for a very young audience, I think that's important...
Merlin season four premieres in the US On Syfy on January 6, 2011