Source:
TV Guide
[follow link for complete column]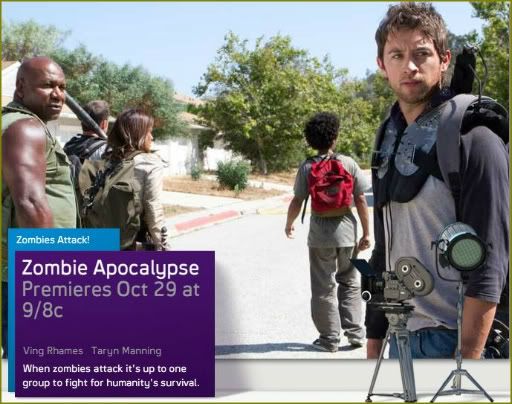 TV GUIDE: Matt's Guide to Weekend TV: Grimm, Chuck, a Zombie-palooza, and More!
Oct 28, 2011
by
Matt Roush
... "You trying to charm me with poetry during the zombie apocalypse?" says a female warrior during one of the few down moments of Syfy's decidedly non-poetic Saturday night creature feature
Zombie Apocalypse
(9/8c), which is like
The Walking Dead
minus all the pesky character development and convincing special effects.
Ving Rhames
and
Taryn Manning
are the most recognizable members of a ragtag band of survivors, trying to make it to a refuge on Catalina Island. There is no refuge, however, from the laughable writing and acting — and the cheesy CGI, especially when one last nasty surprise awaits the heroes on the pier...