NOTE: Syfy has CANCELLED this marathon and replaced it with a movie marathon.
Source: Syfy
schedulebot

TERMINATOR: THE SARAH CONNOR CHRONICLES - SYFY: Season Two Marathon Friday, November 4, 2011
Cast includes Lena Headey, Thomas Dekker, Summer Glau, Richard T. Jones, Brian Austin Green, Garret Dillahunt and Shirley Manson.
08:00 AM
Mr. Ferguson Is Ill Today
Riley and John abscond to Mexico with unfortunate consequences; Sarah encounters Ellison in a face-to-face meeting.
Guest stars include Leven Rambin, Danny Mora, Emilio Rivera, Alicia Benavides, Alex Castillo and Danny Lopes.
09:00 AM
Complications
Sarah ponders her nightmares and their intrusion into her real life while Derek and Jesse track a possible Skynet conspirator.
Guest stars include Richard Schiff, Dorian Harewood, Adam Busch, John Kelly and Stephanie Jacobsen.
10:00 AM
Strange Things Happen At The One Two Point
Sarah tracks the Turk; Jesse's plans complicate matters; Ellison meets an important person through Weaver.
Guest stars include Leven Rambin, Shane Edelman, Eric Steinberg, Eddie Shin, Dorian Harewood, Javier Grajeda and Stephanie Jacobsen.
11:00 AM
Self Made Man
Cameron's nightly activities are revealed; a Terminator from the future arrives at the wrong point in history.
Guest stars include Billy Lush, Oren Dayan, Todd Stashwick, David Michie, Mary Alexandra Stiefvater and Branden R. Morgan.
12:00 PM
Alpine Fields
Sarah and Cameron try to protect a family linked to Derek; Jesse's life is endangered.
Guest stars include Rebecca Creskoff, Samantha Krutzfeldt, Carlos Jacott, Johnny Sneed, Peter Mensah, Haley Hudson and Stephanie Jacobsen.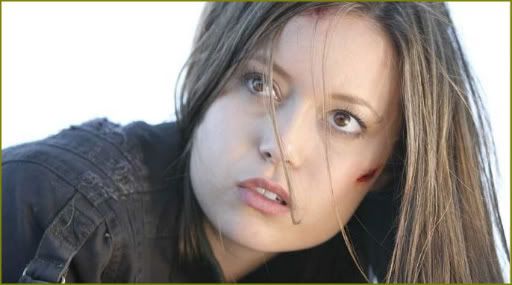 01:00 PM
Earthlings Welcome Here
Sarah tracks down a blogger who's familiar with the three-dots symbol. Elsewhere, Riley's bond with John begets a clash with Cameron.
Guest stars include Leven Rambin, Dinah Lenney, Michael Hyatt, Barry Livingston, William Stanford Davis, Ned Bellamy and Stephanie Jacobsen.
02:00 PM
The Good Wound
The image of Kyle Reese (
Jonathan Jackson
), John's father, visits Sarah while she deals with her injuries; fatal consequences result after Weaver becomes protective of John Henry.
Guest stars include Jonathan Jackson, Laura Regan,
Star Trek Enterprises'
Connor Trinneer, Jamison Jones, Chad Lindberg and Stephanie Jacobsen.
03:00 PM
Desert Cantos
Sarah probes the company town connected to the decimated factory with John, Cameron and Derek. Weaver seeks out a potential survivor.
Guest stars include John Pyper-Ferguson, Mackenzie Brooke Smith, Alanna Masterson, Adam Wylie, Cyd Strittmatter and Shane Edelman.
04:00 PM
Some Must Watch, While Some Must Sleep
Nightmares drive Sarah to visit a sleep clinic and she speculates about Skynet's motives at the facility.
Guest stars include Julie Ann Emery, Ned Bellamy, Michelle Arthur, Manny Montana and Sashen Naicker.