Source: BBC America
schedulebot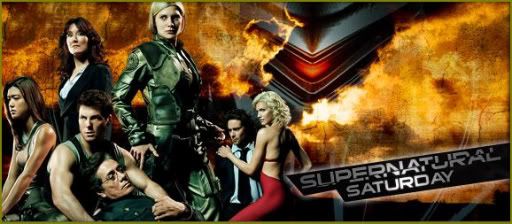 BATTLESTAR GALACTICA - BBC AMERICA: SCHEDULE
FRIDAY, OCTOBER 21, 2011
9:00 PM
Sacrifice
Cloud 9's lounge is under attack by terrorists who are convinced that Sharon Valerii is playing the military. The leader of this quartet, Sesha Abinell, demands that the invaluable Valerii be brought to her. Season 2 Ep. 16
Guest stars include Kate Vernon, Mark Houghton, Eric Breker, David Neale, Dana Delany and Adrian G. Griffiths.
10:00 PM
The Captain's Hand
When two Raptors go missing after a training mission, new Pegasus commander Barry Garner challenges Admiral Adama's orders by sending his battlestar directly into the rescue zone - and a trap. Season 2 Ep. 17
Guest stars include Richard Hatch, Donnelly Rhodes, John Heard, Christian Tessier, Stefanie von Pfetten,
Eureka's
Kavan Smith, Rekha Sharma, Aaron Pearl, Christina Schild, Kimani Ray Smith and Kurt Max Runte.
SATURDAY, OCTOBER 22, 2011
7:00 PM
Downloaded
Cylon society is revealed when a Cylon's consciousness is downloaded into a new body following her death. The conquerors of occupied Caprica hail two "heroes of the Cylon," who both resist their new celebrity status. Season 2 Ep. 18
Guest stars include Lucy Lawless, Donnelly Rhodes, Matthew Bennett, Rekha Sharma, Kerry Norton, Alisen Down and
Eureka's
Erica Cerra.
8:00 PM
Lay Down Your Burdens, Part 1
As the presidential election looms just weeks away, the accidental discovery of a habitable planet sparks debate in the Fleet: Colonize or keep seeking Earth? Season 2 Ep. 19
Guest stars include Richard Hatch, Rekha Sharma, Dean Stockwell, Alisen Down, Leah Cairns, David Kaye and Colin Lawrence.