NOTE
: Syfy has cancelled this marathon, in its place is a
Destination Truth
marathon. [October 30, 2011]
Source: Syfy
schedulebot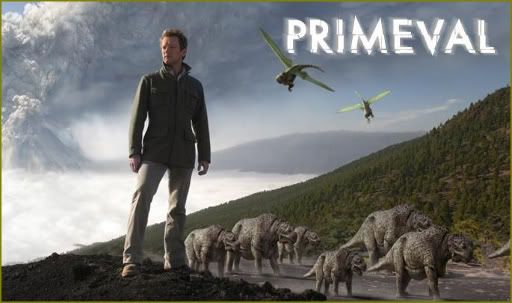 PRIMEVAL - SYFY: SEASON ONE MARATHON - TUESDAY, NOVEMBER 1, 2011
Cast includes Andrew Lee Potts, Hannah Spearritt, Ben Miller, Juliet Aubrey, Lucy Brown, Douglas Henshall and James Murray.
08:00 AM
Series 2 Episode 5
An anomaly in a drainage pipe leads a young girl chasing her dog into a bleak, sandy past landscape filled with burrowing monsters.
09:00 AM
Series 2 Episode 6 - Part 1
The team capture a Mammoth running rampant on the M25. The conspiracy is finally revealed as they attempt to kill Cutter and his team and destroy the ARC.
10:00 AM
Series 2 Episode 7 - Part 2
The conspiracy unravels and people working closely on the project die -- or do they?
11:00 AM
Series 1 Episode 1
In the series opener, a dinosaur sighting is investigated by evolutionary zoologist Nick Cutter and his team.
12:00 PM
Series 1 Episode 2
The team searches unused tunnels in the London Underground after a giant spider attacks a cleaner.
01:00 PM
Series 1 Episode 3
Nick worries about his wife as prehistoric reptiles invade swimming pools, cellars and reservoirs via space-time anomalies.
02:00 PM
Series 1 Episode 4
Ancient parasites that could devastate the human race are discovered in a group of dodos.
03:00 PM
Series 1 Episode 5
A prehistoric winged reptile appears above a golf course; Connor and Abby search for Rex in the
04:00 PM
Series 1 Episode 6
Helen resurfaces with news implicating a predator from the future as the culprit behind numerous disappearances.