Source:
GateWorld
[follow link for complete interview]

STARGATE ATLANTIS / EUREKA - GATEWORLD: Kavan Smith Interview
by
Chad Colvin
September 22, 2011
Here at GateWorld, every once in awhile we get lucky enough to touch base with the cast members and crew of the different
Stargate
series more than once in a short period of time. It doesn't happen often, though, as our deadlines and lives outside the site (and their acting and production careers) very often interfere. For every actor we get the chance to talk with frequently, there are many others that we just don't get the chance to touch base with very often — regardless of how hard either side tries. So when the opportunity arises, we seize it. Such was the case this year with
Stargate Atlantis'
"Major Lorne" —
Kavan Smith
.
We caught up with the actor twice this year, at both the Vancouver and Chicago stops of the
Creation Entertainment
Official Stargate Convention tour — with the latter chat occurring mere days after the announcement of the cancellation of his current television series,
Eureka
. In our extensive chat,
Kavan Smith
discusses the cancellations of both beloved genre shows, muses about his latest TV-movie roles, talks about why
Felicia Day
just might be the most talented genre actress on the planet currently, and more...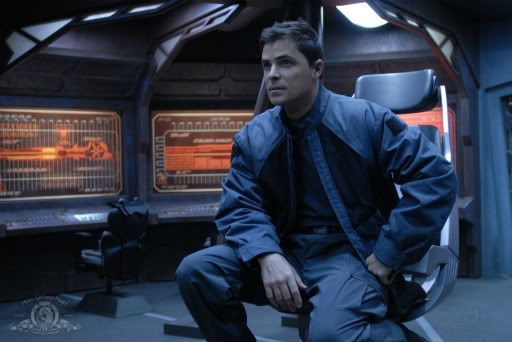 Kavan Smith as Major Evan Lorne, Stargate Atlantis' 'No Man's Land,' photo courtesy of MGM
...
GateWorld: Eureka, a couple of weeks ago, was canceled in what I essentially believe was its prime. Ratings are definitely not a reason for it to be disappearing. There's been talk about whether it's a Comcast [majority shareholder of NBC/Universal and Syfy's parent company] decision, ultimately. How did the cast react when the news broke? I know initially, they were looking at an abbreviated six-episode season to finish things off. What was the mood on the set?
Kavan Smith
: "
Well, what I got from everybody was a mix of surprise and some disappointment from a few people. I think the vast majority of people on the show are quite professional and regardless of why or what happened, I think that five years on a television series is a pretty good run nowadays. It doesn't happen very often. So I think, for the most part, people were okay.

I think what had a couple of people irked was just the way it happened. By saying, "Okay, well we're not doing a 13 [episode run], we're not picking you up for another full season, but we are going to do an abbreviated season of six." I think, in all honesty, everybody reacted really positively to that. I think that idea of doing another full season — some people were ready to move on to other things — so the idea of just doing six more really appealed to everybody across the board.

So when the bottom dropped out the next day and the six episode order was pulled, there was a lot of speculation. They sent some network execs up and we were talking about things like the market and how that affected the dollar and Comcast and what their bottom line would be. I mean, it's a business. It's the reality of it, unfortunately. But it's a business that involves fans and that's the kicker. The two don't always see eye-to-eye on things...
"