Source:
Blastr
[follow link for complete article]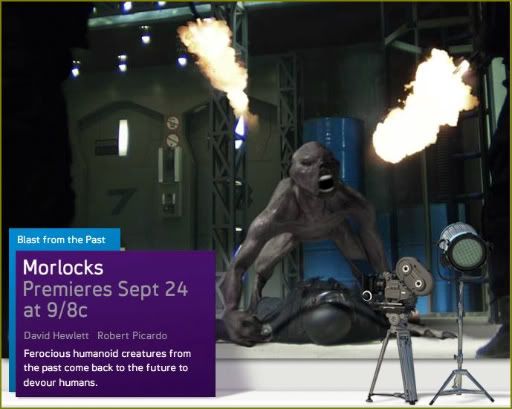 MORLOCKS - BLASTR: Why David Hewlett and Robert Picardo can't stop laughing
By
Kathie Huddleston
Sep 23, 2011
Listening to actors
David Hewlett
and
Robert Picardo
talk about their new movie,
Morlocks
, you might think it's a comedy. It's not. It is, however, Syfy's newest original Saturday night sci-fi movie, which premieres tomorrow at 9 p.m.
As for the irrepressible
Stargate
stars, they promoted their new film by chattering on and cracking jokes like a well-oiled comedy team, discussing
Morlocks
, evil chickens, working in Bulgaria and what might happen if they got married to each other.
"
I would say, very, very, very, very loosely are we associated with the original Time Machine,
" said Hewlett.
"
And I would say it would be easier for H.G. Wells to recognize a television than recognize his own story here
," said Picardo...
Click
here
to view a
Morlocks
movie trailer, or video sneak peek number
one
or number
two
.